Egypt
Egypt, located in north eastern Africa, connects the continent with the Middle East. It has a population of 107.7 million people, making it the fourth-most populous in Africa. An estimated 51.6% of Egyptians are under the age of 25, with just 4.4% over the age of 65, making it one of the most youthful populations in the world. The vast majority of the population of the country consists of ethnic Egyptians, including Copts. Egyptians make up 95.7% of the population. Most Egyptians are native speakers of Egyptian Arabic (CIA World Factbook, 2021). Egypt gained independence in 1922 and is ruled by President Abdel Fattah el-Sisi. 
Ancient Egypt was one of the most powerful and influential civilizations in the region for more than 3,000 years, from around 3100 BC to 30 BC. It left behind numerous monuments, documents and works of art that continue to be studied by scholars today (Livescience.com, 2021). 
Egypt has been suffering as a nation since the well-documented Arab Spring revolution in 2011. Following two military coups, there has been a marked deterioration in the economy and unemployment is high, especially amongst young people (theatlantic.com, 2014). Tourism, which is a large contributor to the Egyptian economy, has declined because of the 2011 unrest, and more recently because of terrorist atrocities. The Church has also suffered some violent opposition from Islamist extremist groups during this period. 
Following the civil war in Syria and with almost half of the Syrian population displaced, over 133,000 Syrian refugees have fled to Egypt. Most of these refugees live in cramped conditions and many are widows with children who have fled the fighting in their home cities. These refugees have suffered intensely and arrive in Egypt with no access to healthcare, finance or transportation. IN's work in Egypt is focused on supporting these displaced families, meeting their basic needs and helping them to create their futures in very difficult circumstances. 
International Needs Egypt (IN Egypt) is based in Cairo and works directly with vulnerable families. We believe that we must do more than just meet their immediate needs; we need to offer solutions that will boost income, increase employment, and provide affordable healthcare and education for generations to come. We support vulnerable refugee individuals and families to resettle with medical care, food and financial aid and also host a vocational training centre which provides computer courses. IN Egypt also runs a Bible school to train aspiring pastors towards supporting local churches.  
Country director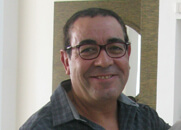 Nathan Bassally
Nathan originally trained as a veterinary surgeon, however Nathan now runs International Needs Egypt that operates a school and a vocational training centre supporting families in the local community. Nathan and his wife have three children.