Supporting Kenya's Street Boys
Life on the street.
An estimated 60,000 children and young people live on the streets in Nairobi and this number is growing. The majority of children living on the streets in Nairobi live in informal settlements such as Kibera, Kawangware and Eastlands. For many, their day to day survival can rely on scavenging, begging and picking through rubbish. They are subject to discrimination and marginalisation, making it more and more difficult for them to integrate back into society. Many have ended up on the street due to abandonment, domestic conflict or extreme poverty at home.
The lure of drugs is strong and substance abuse is common. Many street children abuse solvents to cope with the reality of their situation, feelings of extreme hopelessness and to suppress hunger. Many children and young people living on the streets have no official identification; as they are not officially recognised as citizens they lack protection. Many are subject to violence, harassment, manipulation and exploitation.  Malnourishment is also common and poor sanitation, drugs and abuse mean they are at high risk of illness and HIV/Aids.
Grace Empowerment; a way off the streets and hope for the future.
Through our Grace Empowerment Programme, International Needs is helping young people living on the streets of Nairobi to begin the path to a future off the street. The Grace Empowerment programme is currently supporting 66 children and young people. The programme supports each individual with two large hot meals each week as well as the three key areas of support below:
Supporting their rights 
A legal identity, health care and legal support are often unattainable for street children on their own. Through the programme, we support street children to gain their own legal identity by assisting them in obtaining ID cards. An ID card is often the first step toward a life off the street. Most street children have no legal guardian, so Pastor Joshua stands in for them. Pastor Joshua finds and funds emergency health care when they are in need, and he supports them when they have been unfairly beaten or detained by police.
Pastoral support
Rehabilitation takes time and dedication. It involves not only taking the child out of the street but also taking the tough impact of the street-life out of the child. Restoring a child's dignity and recovering his or her childhood is key to enabling them to make choices that can transform their lives and create pathways to a hopeful future. The Grace Empowerment programme provides support including counselling and mentoring. Many young people also come to Pastor Joshua for pastoral support, mentoring and prayer.
Building a new future
When boys feel ready to come off the street, Pastor Joshua supports them with accommodation at half-way houses. Pastor Joshua connects them with vocational training, education and resources to enable them to get formal employment or start their own businesses. Some choose to go into education, some choose to work as artisans and craftsmen. There is no set route, and Pastor Joshua supports them to pursue their goals.
Pastor Joshua
Pastor Joshua Kirani has been working with street children in Nairobi for over 8 years. He has extensive experience and has a well-developed rapport with the street boys. Pastor Joshua's dream is to open a rehabilitation centre tailored to the needs of the children and young people he works with.
Your support
We need your support to continue to run the Grace Empowerment programme supporting children and young people on Nairobi's streets. We also are looking to expand this work in the future to buy, rent or build a facility to be a half-way house and rehabilitation centre to help street boys start their journey off the street. To find out more about how you can support this project, please get in contact with our Programme Manager, Ali Mbugua at alim@ineeds.org.uk
Key facts
Approximately 300,000 children and young people are estimated to be living on the streets in Kenya.
Of these, about 60,000 live in Nairobi.
Our Grace Empowerment Programme currently supports over 60 children and young people living on the streets in Nairobi.
Help support our efforts
Donate today and help our ongoing work to improve the lives of families around the world. By supporting our different areas of development, your generosity will deliver impact and real change.
donate
project updates
September 25th, 2023
Pastor Joshua to visit the UK to raise awareness of Nairobi street kids
We're delighted that Pastor Joshua Karani has received his visa, and will therefore be visiting the UK in November and December 2023.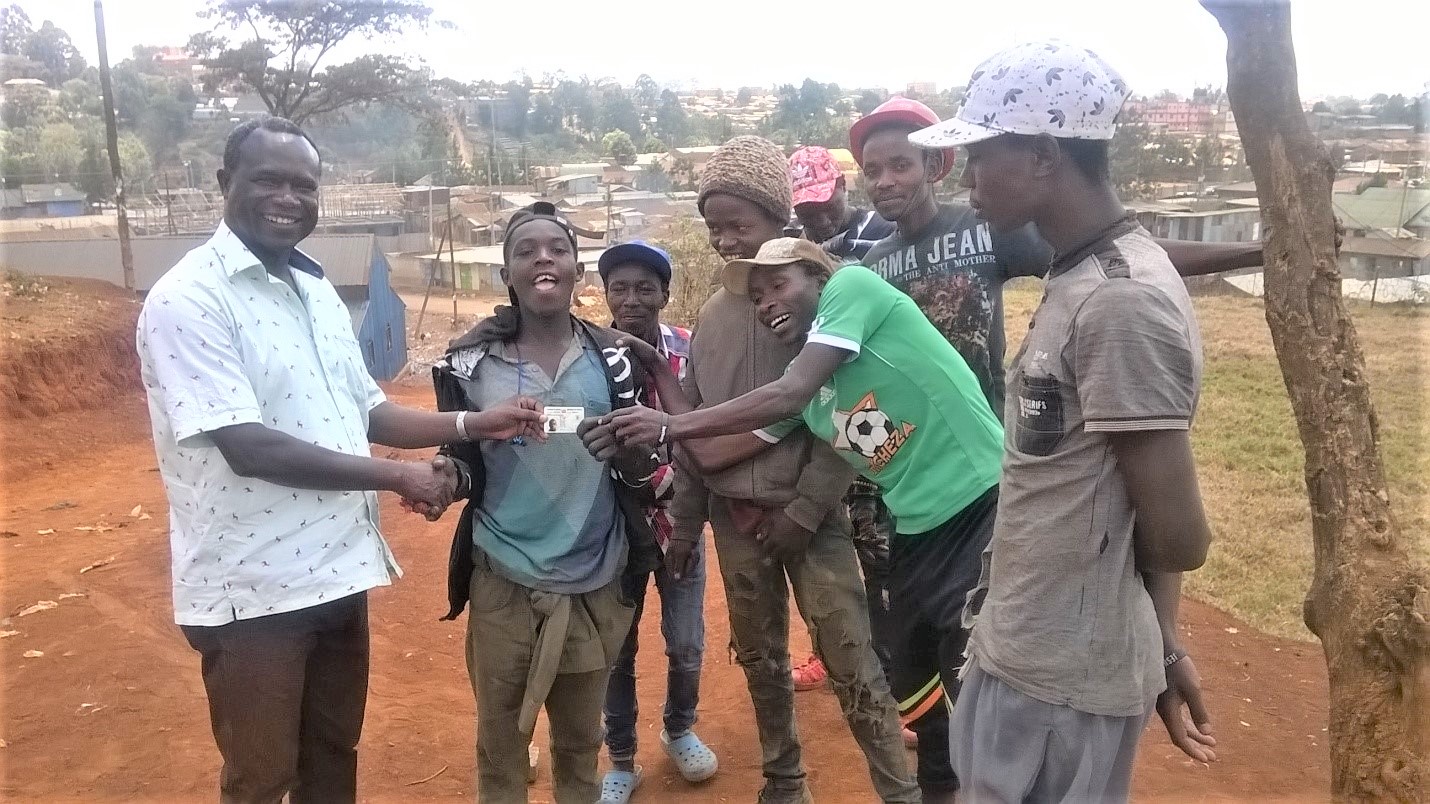 Pastor Joshua – an ordained Baptist minister – will be visiting churches across London and the South East, with plenty of opportunities to hear his passion for the abandoned youth living precariously on the streets of Nairobi, and his vision for the Leadership and Talent Centre which will provide: 
Non-formal education

 

Vocational/entrepreneurship and skills training 

Group sports

and activities 

Emotional and spiritual counselling and mentorship

 

Peer to peer learning

 

Meals 

 
Pastor Joshua will be speaking at:
Sunday 19 November 2023
Westerham Evangelical Church, 10:30am
Pastor Joshua will share about his work and why Jesus is the ultimate rescuer. Fellowship lunch follows after the morning service.
Saturday 18 November
Cutting Edge Men's Ministry, Woodford Green, 12:30-2:30pm
Sunday 19 November
Church of the Good Shepherd, Four Marks, Hampshire, 7pm
An informal cafe-style gathering, including worship, prayer a Q&A with Pastor Joshua and some Kenyan snacks to punctuate the British autumn!
Wednesday 22 November
St Lukes Reigate, coffee at 9:45am and communion at 10:30am
Sunday 26 November
Purley Baptist Church, 9:30 and 11:15am
Pastor Joshua will speak at both services, sharing how the Lord has put Nairobi's street children on his heart and his experiences of the project to date.
Monday 27 November
Eastwood Baptist Church, Eastwood, Leigh On Sea, 2:30-4:00pm
Women's Fellowship

Tuesday 28 November
Purley Baptist Church, Purley, 10:30am
CAMEO
Thursday 30 November
Montpelier Church, Biddulph Road, Purley, 6pm
and join online!
Saturday 2 December
Sanderstead Evangelical Church, Croydon, 9am
Breakfast
Saturday 2 December
Graham Kendrick Concert at St Patrick's Church Wallington, 7pm for 7:30pm
Details and online ticketing here

Sunday 3 December
Godstone Baptist Church, 10:30am
Godstone Baptist is hosting Pastor Joshua during their morning service. He will be talking about providing gospel-centred help to street youths in Kenya.
Sunday 3 December
St Patrick's, Wallington, 6pm
This evening service will be a relaxed chance to hear Pastor Joshua speak on his experiences and relying on Jesus, with an opportunity for Q&A.
Thursday 7 December
Norreys Church, Wokingham, Berkshire, 7:45pm for 8pm
Pastor Joshua will be participating in the all-church prayer meeting this evening, giving insight into the reality of living on the streets of Nairobi and explaining how best to pray when things appear overwhelming.
More details of the programme will appear here shortly.
In the meantime, if you would like to donate or set up a monthly gift for Street Boys in Kenya please call us on 01883 331332 or email Kim Wright, at membership@ineeds.org.uk  
You could also register for sponsorship through our website at www.https://ineeds.org.uk/child-sponsorship 
By supporting a whole group, you are helping to ensure that more children are helped with their Educational Development, Physical and Health development, spiritual development and social development.
'And Jesus grew in wisdom and stature, and in favour with God and man'
Luke 2.52
Join us as we seek to change the lives of street boys in Kenya and make a lasting impact.  
August 31st, 2018
Harvest 2018: Hope for Kenya's Street Children
Wachira's story
Wachira moved to the streets as a teenager. He left home as his parents always argued and did not return as his mother then passed away. For a while, he lived with his grandmother but when she also passed away, Wachira ended up on the streets in the Westlands Slum in Nairobi. Wachira joined a street family group of around 20 boys and young men, eventually becoming their leader.  The group live together in makeshift shelters on the street.
August 31st 2018
Project launched