March 23rd, 2022
Ukrainian Refugee Appeal – Weekly Updates (latest update 1st June)
Thank you so much for your generous support at this desperate time for families fleeing Ukraine. The aim of this blog is to keep you updated with our urgent ministries helping families arriving in Slovakia and Romania. We will update this blog post every week with the latest stories, impact and needs of our ministries in Slovakia and Romania. Please donate to this work and continue to do so
'He will take pity on the weak and the needy and save the needy from death. He will rescue them from oppression and violence for precious is their blood in his sight.' Psalm 72.13-14
We have been so encouraged by the generous response from our supporters and people new to International Needs. Thank you so much.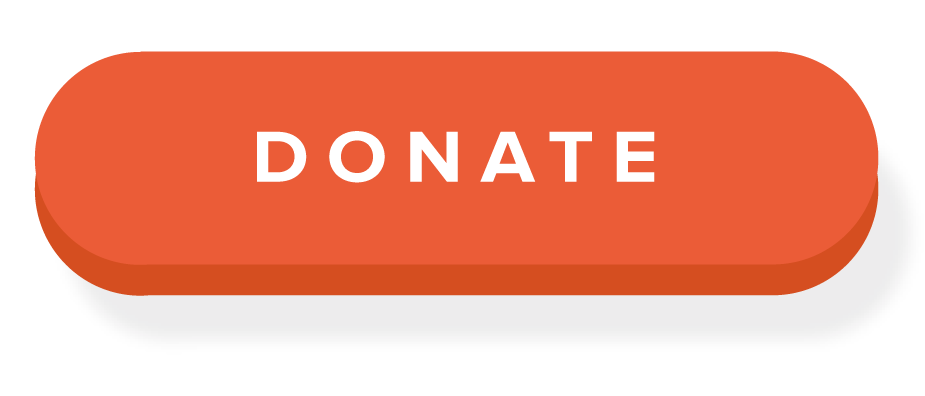 ……………………………………………………………………………………………………………………………………………………………………………
Weekly Updates
……………………………………………………………………………………………………………………………………………………………………………
1st June
Messages of thanks from Ukrainian Refugee families in Slovakia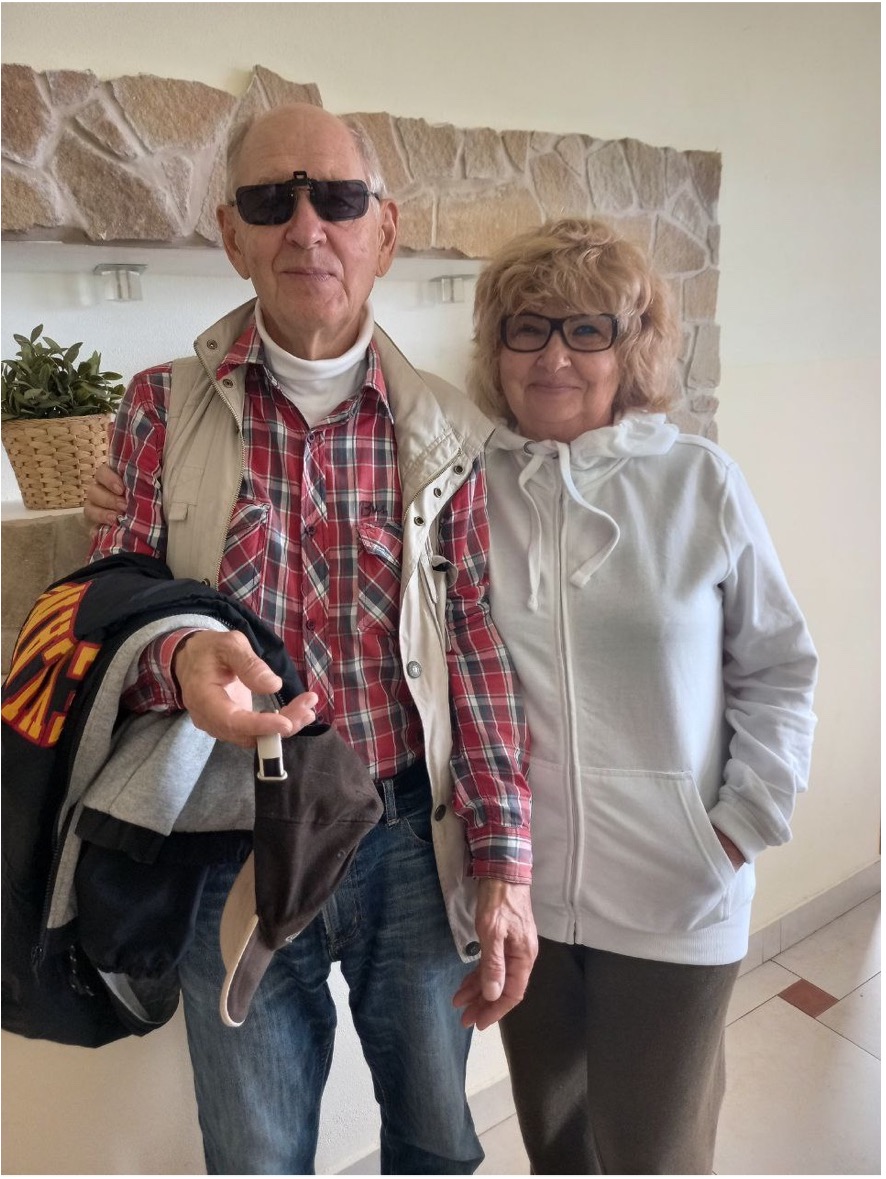 Katya and Nikolai
"Hello, I am Katya Matsko and I am 71 years old. I am with my husband Nikolai who is 72 years old from Kyiv. We are very grateful to everyone who financially gave us the opportunity to spend 3 months in this wonderful place – a paradise for us, in the convention center.  Here, through all the people, we saw a lot of God's love, we felt very good here, as in the arms of the Heavenly Pope.  After all the horror that we experienced in Kiev, we had the opportunity to sleep peacefully in our beds, not dressed and not in bomb shelters, pray with others, eat well, study the Bible, heal ourselves internally.
 My soul has found friends here, my soul has found peace and rest here!
My spirit saw here an example of ministers who served us 24/7..this example teaches me to give more than take..Here I managed to cast all my worries on God and trust Him …
Thanks to the clean mountain air and clean water, my health has been improved here – my asthma is completely gone…I can breathe here without an inhaler..Thanks to your service, God gives strength to live on, to serve,
 We love.  We appreciate.  We pray.  We bless!  We believe that God will turn evil into good.
 With love, Katya and Kolya Matsko, Kyiv"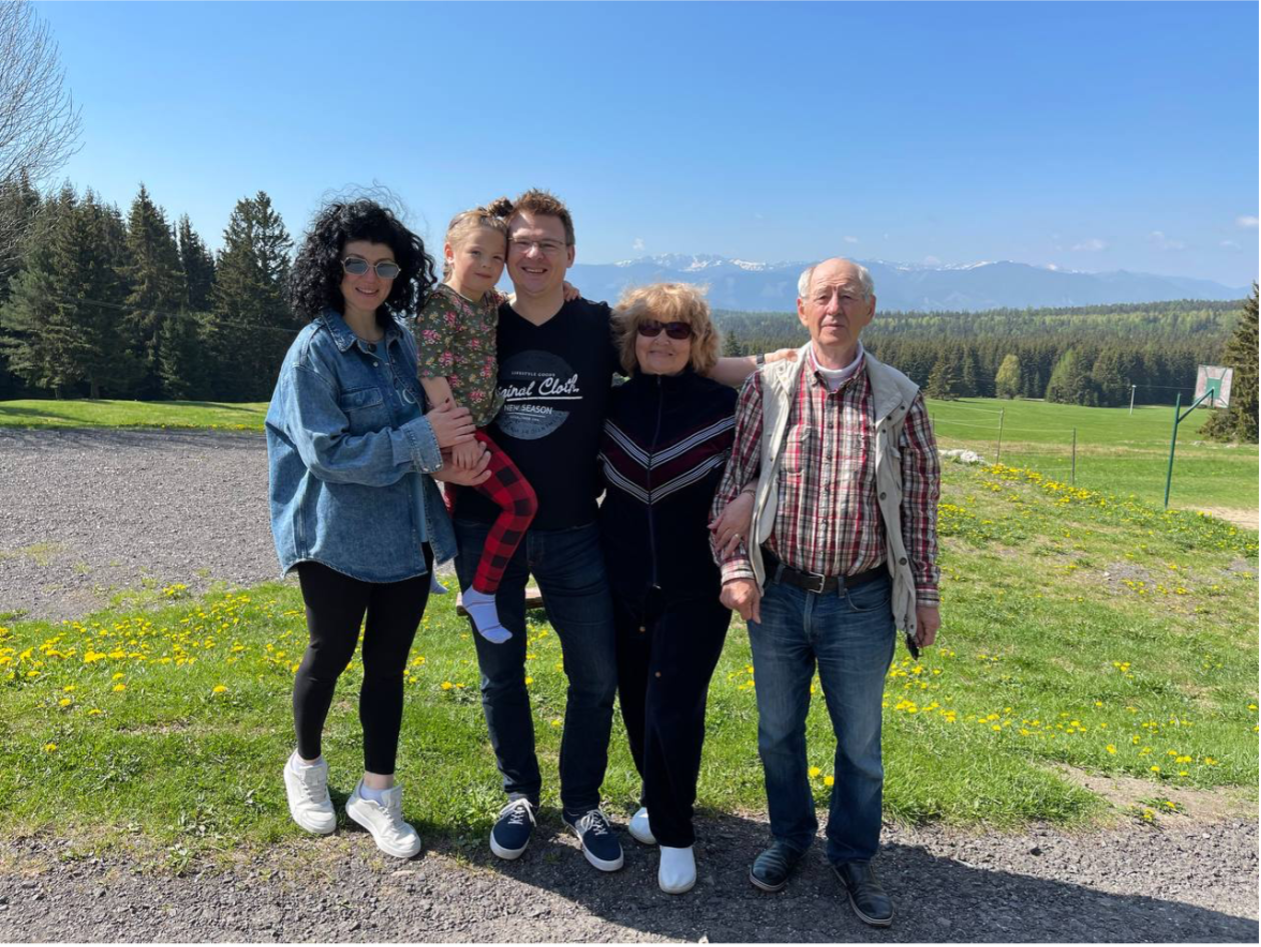 The Oleg Family
"Thank you for a chance to spend time with our parents in safe place. Everything and Everyone was amazing!!! God Bless!
?leg, Anna, MeryMazko, Kyi"
The Burger Family
"Dear sponsors and organizers! The mother of the Burger family is writing to you. I, Burger Elena Anatolyevna, and my children: Anastasia, Vladislav, Miroslava, Alexandra and Sergey are very grateful for the warm welcome. When we fled from the war and the Serens, we did not know what awaited us. We didn't know where we would live. We had fear and anxiety in our hearts. We were received, fed, warmed. Surrounded by care. We received help and peace of mind. And, thanks to believing brothers and sisters, my children have become closer to God. Thank you very much for everything and may the Lord God reward you 10 times more for your care and service. Sincerely, the Burger family"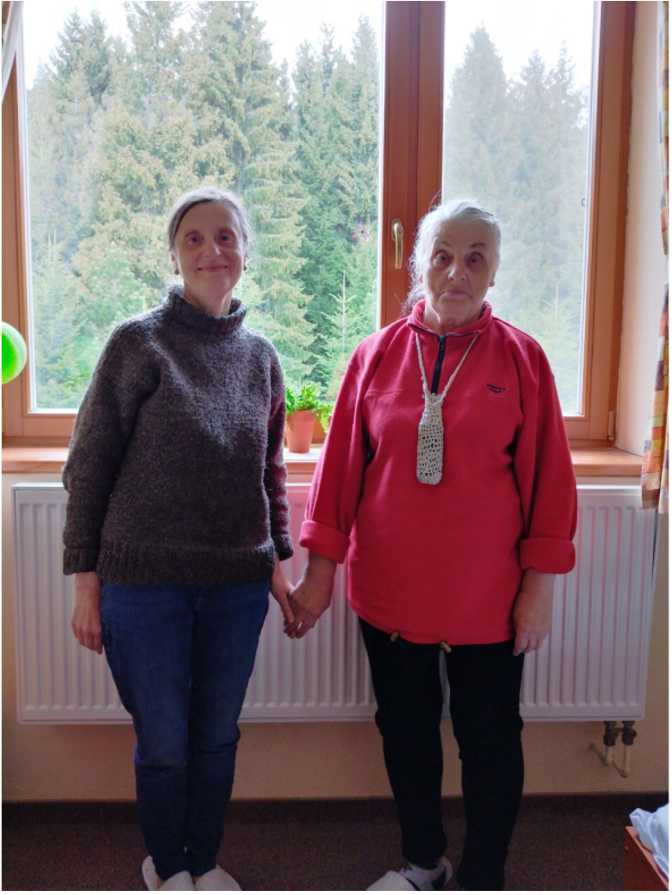 Olya
"We are going through a difficult time right now. During these 3 months of staying at the hotel, we returned to normal life. The state of health depends on the state of the soul. During this period of stay in the hotel, they created all the conditions for their attentive, very good relations, take care of us. During this time, we regained a sense of security and peace of mind, returned to our former lives. "?????? ??????": to Slovak people: to Pavol and to the maid Anya, to the cooks , to Anya and Dushan, to our Slovak friends. Low bow to you, dear!!!
From Olya Oliynik, 50 years old, Irpin"
Thank you so much for helping us to support these families and so many more!
……………………………………………………………………………………………………………………………………………………………………………
21st May
Update from IN Slovakia
Our partners have continued to host refugee families at their Rackova Conference Centre, currently they have 65 people there. At this centre these families are receiving three hot meals a day, medical help, youth sessions for the kids, support with preparing necessary paperwork and more. We are also helping local families to host 24 refugees in their homes by helping provide food each day. Some families are now starting to move back into Southern Ukraine and our partners are helping families to settle where they want to.
We are helping families to deal with the trauma and loss they have experience. We are helping children to understand what they are experiencing and helping them to feel safe. As part of this we are running four sessions each week for Mums and their kids, allowing the kids to play and enjoy each other's company. Our experienced children's workers are helping these children to settle and feel secure. This also allows their parents a moment of rest and a moment to plan their next steps.
We had hoped to be setting up hubs with different churches in Slovakia helping them to welcome refugees families, yet IN Slovakia say this has been very hard to achieve as the government's response is difficult to coordinate with. Our teams are navigating the best ways to support these families with each changing day. Thank you for helping provide the resources to help them do this.
Please continue to pray for the children as they make sense of how their world has suddenly changed around them and how to manage their trauma. Please pray for the peace of the spirit to surround them. Please pray for our teams as they help these families move through their trauma.
……………………………………………………………………………………………………………………………………………………………………………
5th May
The powerful story of God's provision for Zenja and his family, written by Pavel Sinko, CEO IN Slovakia
[content warning – some may find this story distressing]
Zenja fled with his family of six kids and a pregnant wife traveling for over two days from Romania. They found themselves in Lucenec at two in the morning looking for somewhere to sleep. They found a hotel but since no one was at the reception desk slept in the car. In the morning they checked into the hotel and through WIFI they began looking for a close Baptist church. You can really see God's hand directed them because in other countries maybe it's normal to find a Baptist church but here in Slovakia we only have twenty-five in the whole country and they just so happened to end up in a town with one. Zenja came to the 3Pe looking for help. Photo below with Pavel on the left and Zenja on the right.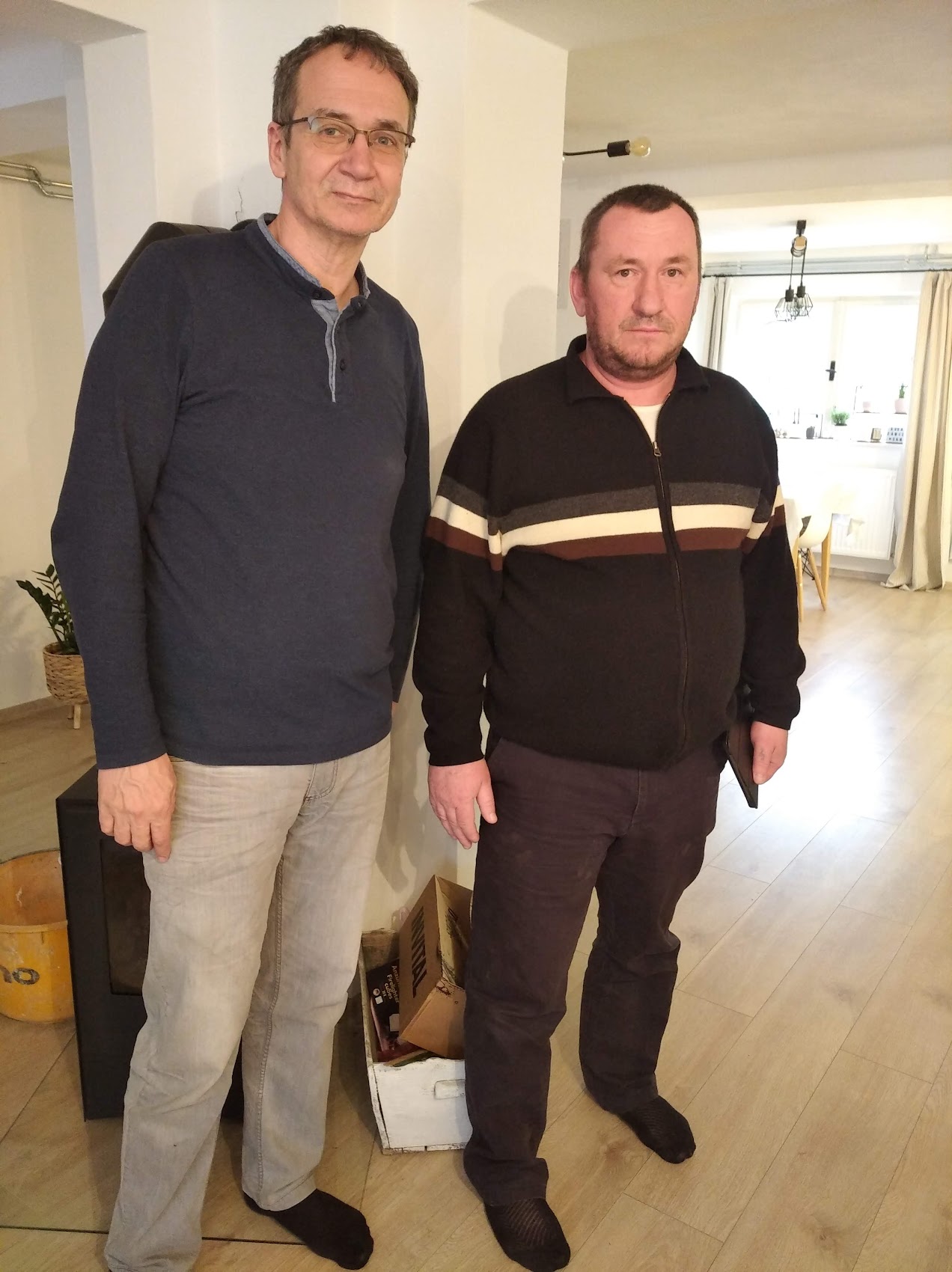 IN Slovakia were able to provide them with housing from a member of the church where they could relax and rest before moving on. Photo below shows Zenja´s family – 8 people came on a small five seats car – six children sitting on three seats.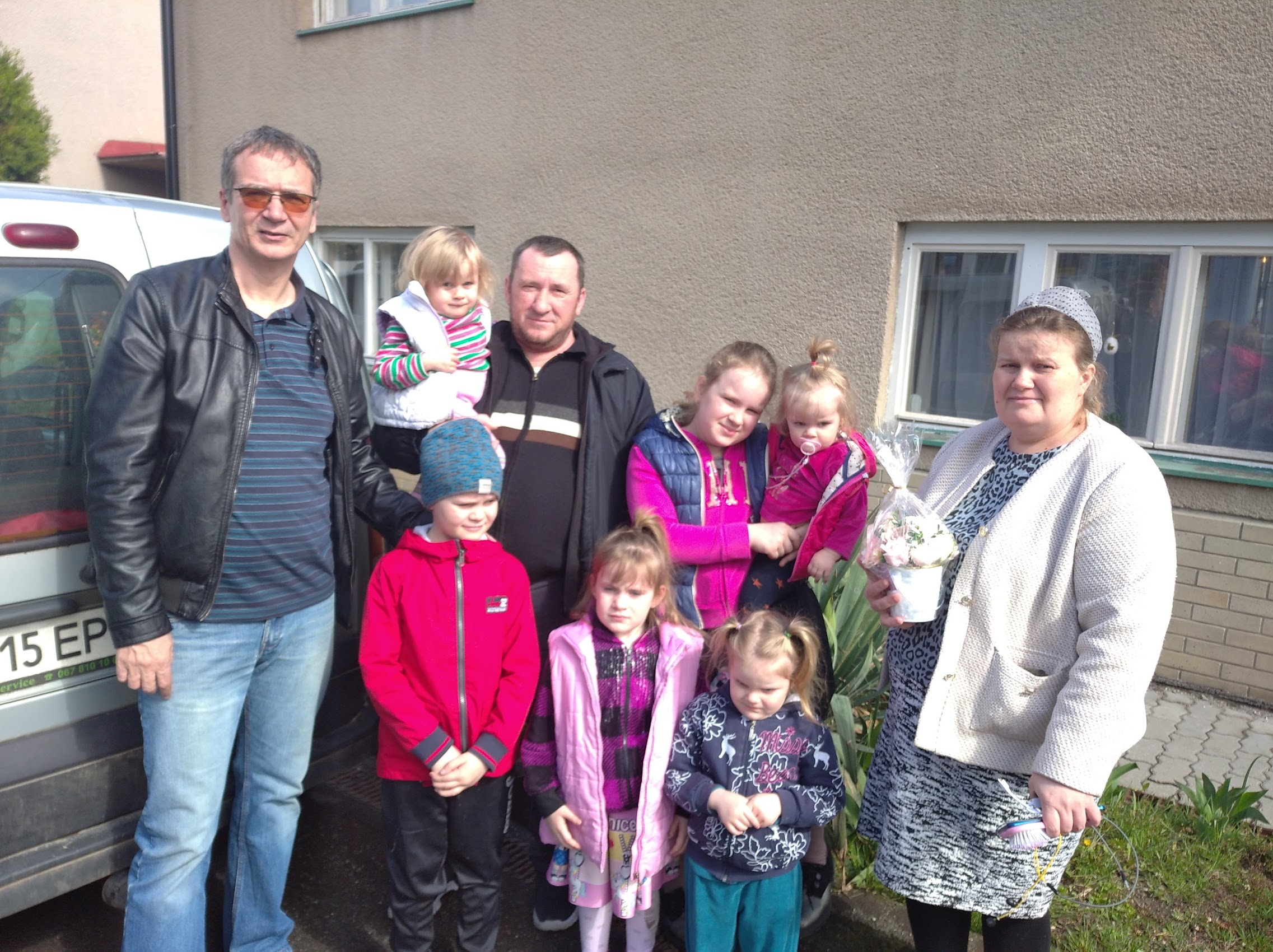 They also had a chance to serve in the church with a few songs and testimonies. Two of his daughters have scoliosis. Before they fled, six year old Alina went to Charkov because their grandfather had a new scoliosis corset for her. He was waiting in the basement since the sirens were going off. He stepped out after he thought it was ok and it was at this time that the last bomb dropped sending shrapnel into the air cutting into his major artery. His granddaughter watched all of this happen as he slowly bled out and was even trying to save him. We helped the family to travel further from Lucenec in Slovakia. After two days they ended up in Germany, where government gave them a four room flat. Photo below shows Alina and family at the funeral of her Grandfather.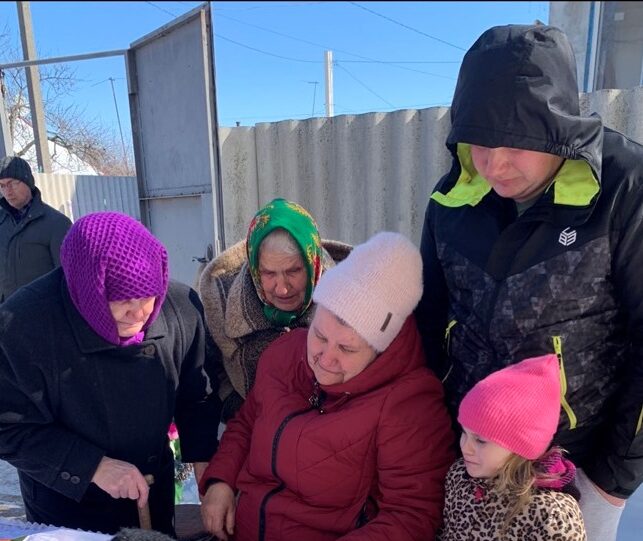 This is just one of many cases of how this war is impacting children and the need for Ukrainian speaking psychologists to help not only adults but also children to process the trauma they have gone through. To find a Ukrainian speaking psychologist in Slovakia is not only hard but really impossible. Amazingly, the Lord has also provided this through Maryna. Photo of Marina below.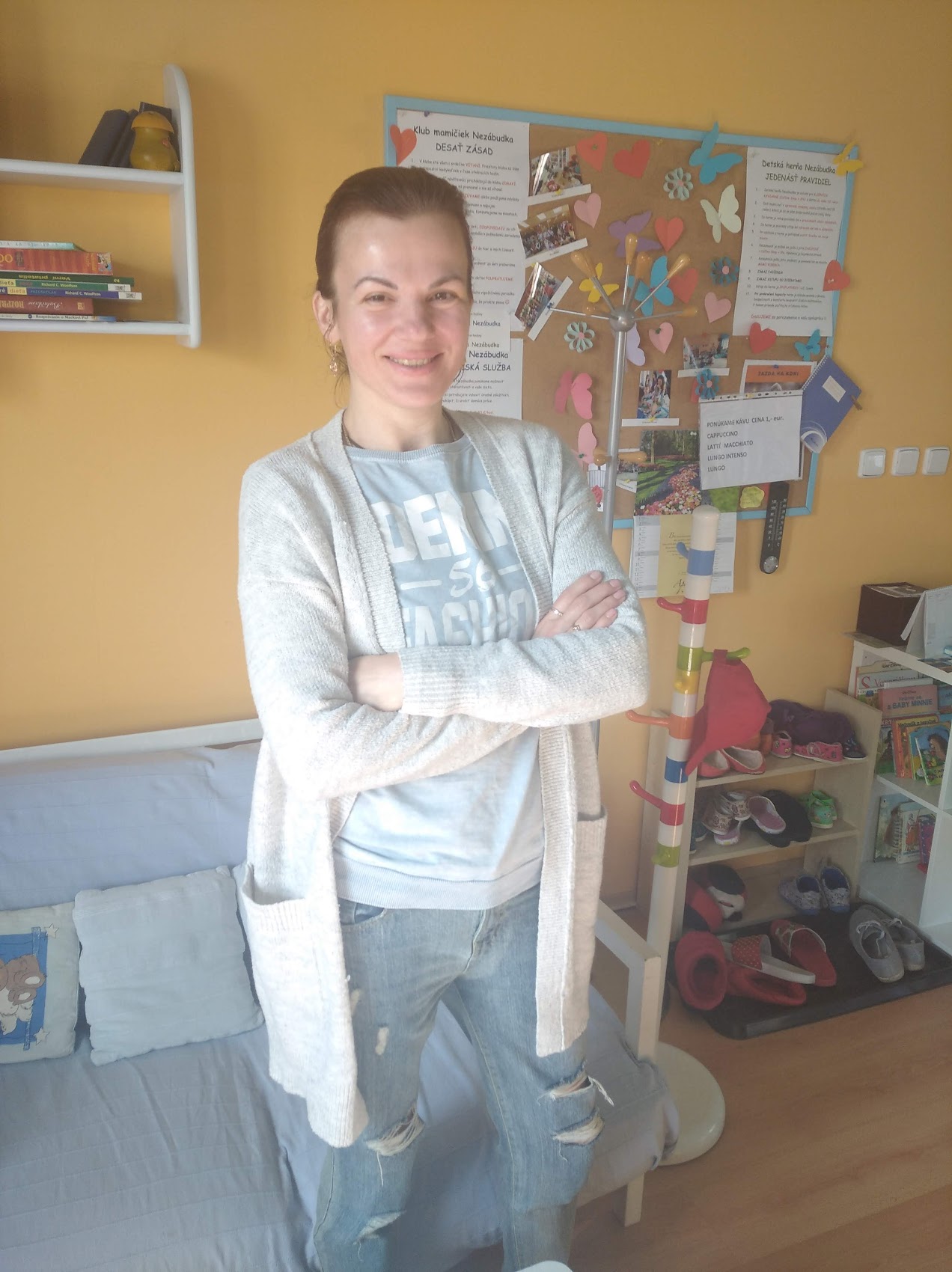 She comes from Charkov. And fled with her thirteen-year-old daughter. Her flat doesn't exist anymore. Photo below shows her destroyed flat – hers was on the second floor on the left.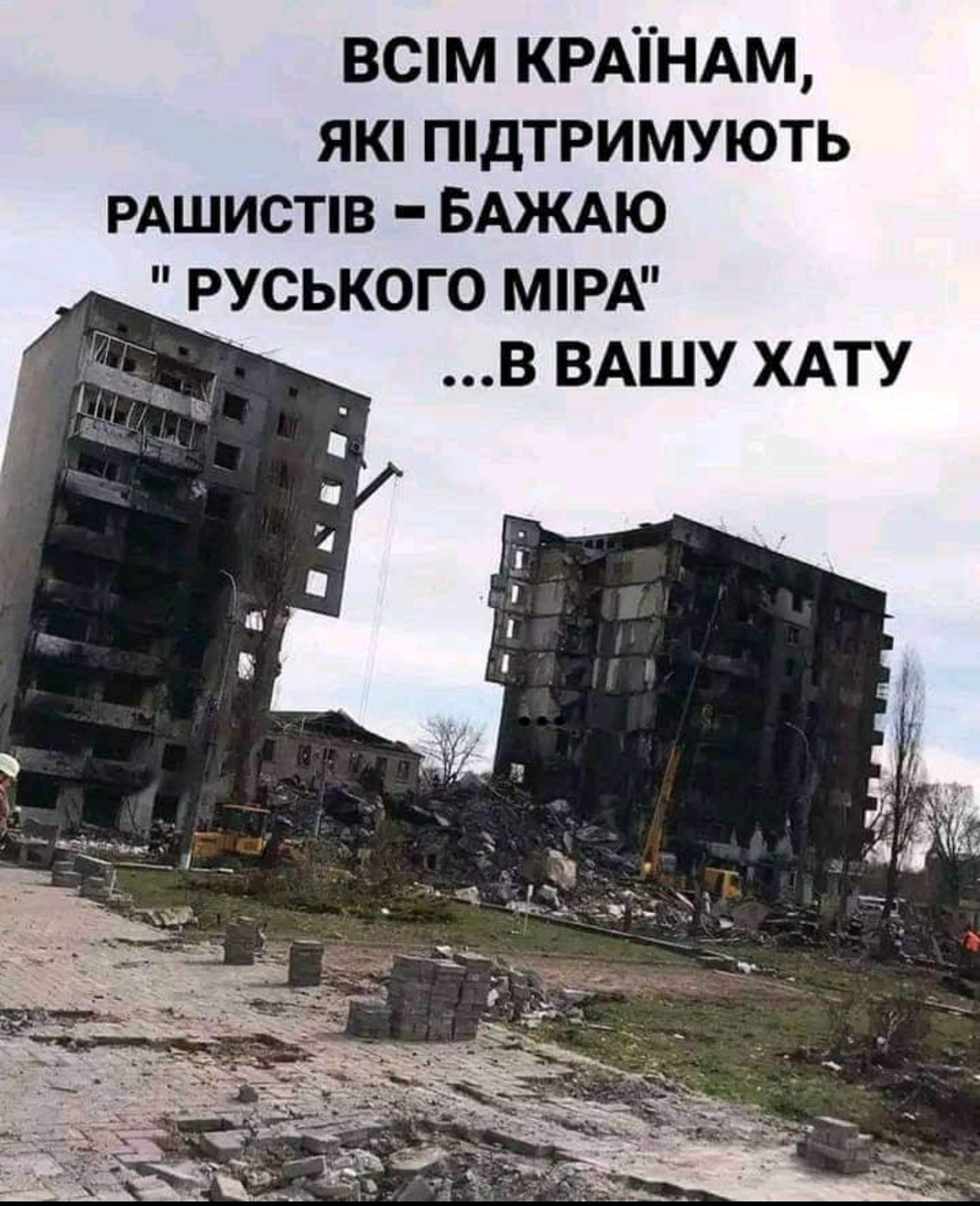 She was working in a kitchen in Lucenec peeling potatoes for a few hours a week. She was looking for more work and as it turns out she is a child psychologist and we were able to employ her counseling Ukrainian refugees. As of now we can only employ her for four months but are looking for a way of employing her longer because during the shelling of her town her apartment was destroyed and she has nothing to go back to. One more story. Right now she is living in a state apartment in bad condition. In one room is she with her daughter and another mom.  Just recently she mentioned her dream to live just with her daughter. Just 20 minutes later I received an SMS message from a person who didn´t contact me for a year. This person wrote me that she is offering a one room fully furniture apartment for refugees. Maryna was so excited. I told her "Maryna – you know I am believer. Look how God is working." And I show her the text message. Photo below of Marina and her daughter in their new accomodation.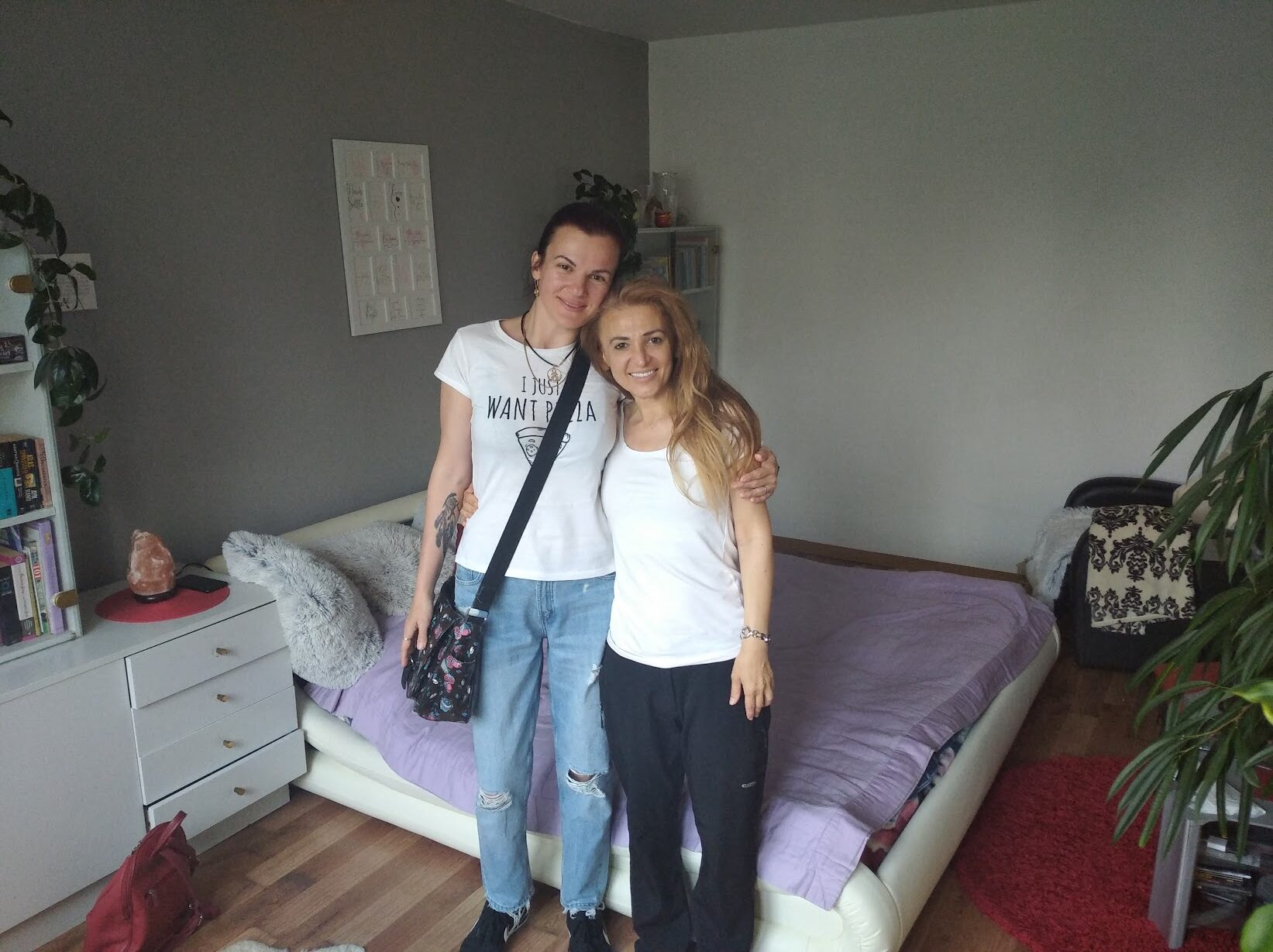 Thank you for continuing to donate in support of our ministries in both Romania and Slovakia where we are supporting hundreds of refugee families to find safety, food, basic resources, community, fellowship and support. We are seeing God's hand work through this ministry. Please continue to pray for his blessing on all we do and everyone we support. Thank you.
……………………………………………………………………………………………………………………………………………………………………………
28th April 
Stories from IN Slovakia
Please continue to pray for the families arriving with our IN partners in Slovakia and Romania. Our teams are working tirelessly to welcome them and help them get the resources, security and rest they need. We are sending trucks of resources into Ukraine and providing help at the border, shelter, food and more. In Slovakia we are hosting 69 people at the Rackova Conference Centre. This work is essential. Thank you for all your support making this possible.
Olena´s family (written by Pavel Sinko, IN Slovakia)
"Olena (47)  came to our center in Rackova with all her family. Her husband left her. When war came to their area she escaped with her six children to Slovakia. On the phot there is also a man in the wheelchair. He is Olexij (27), her son in law. He married her oldest daughter Diana (22), just a day before they left the Ukraine. (the second photo is their wedding picture). So they are on their "honeymoon" in Slovakia.  One church made a collection and gave some funds as their wedding gift."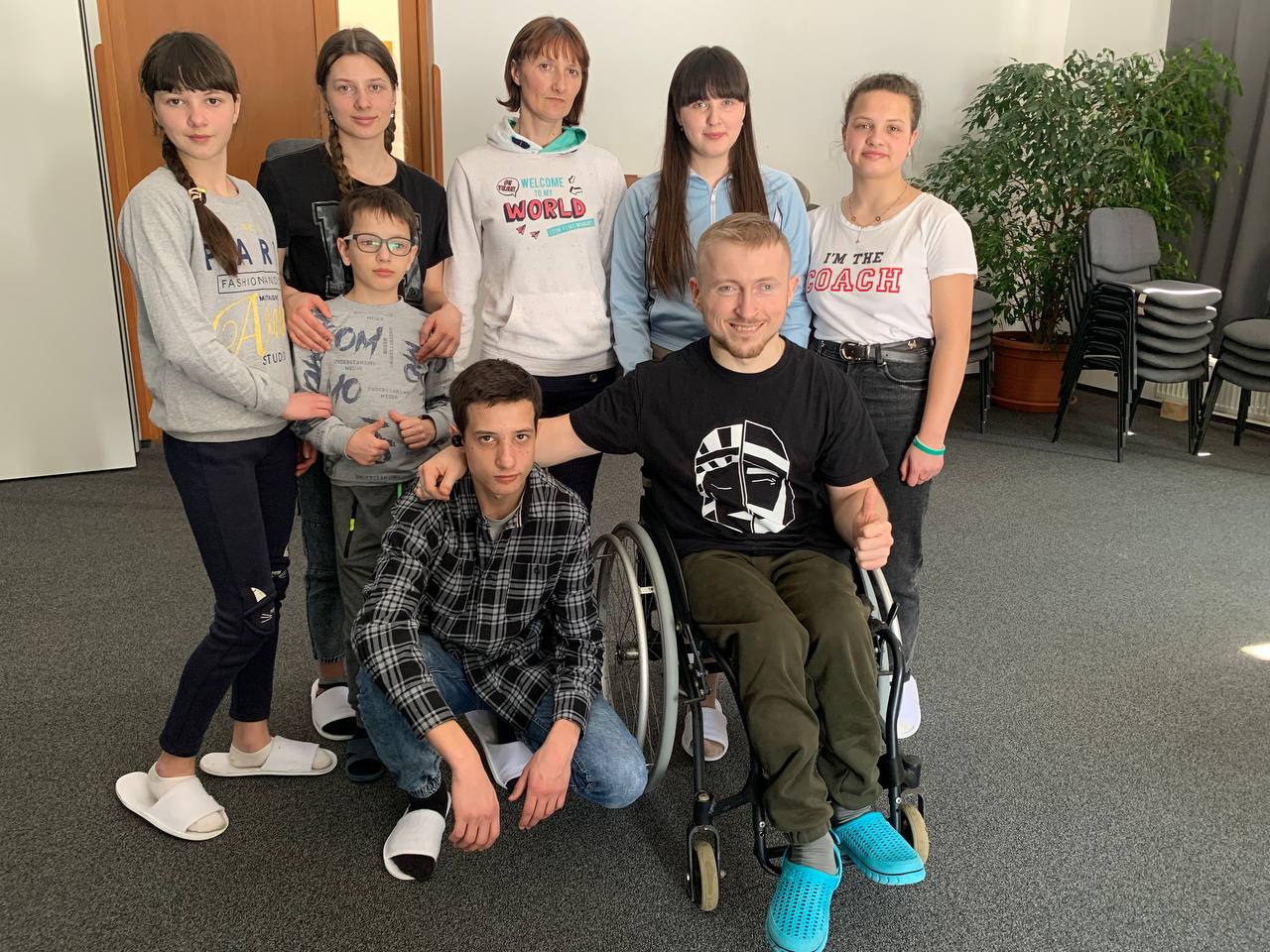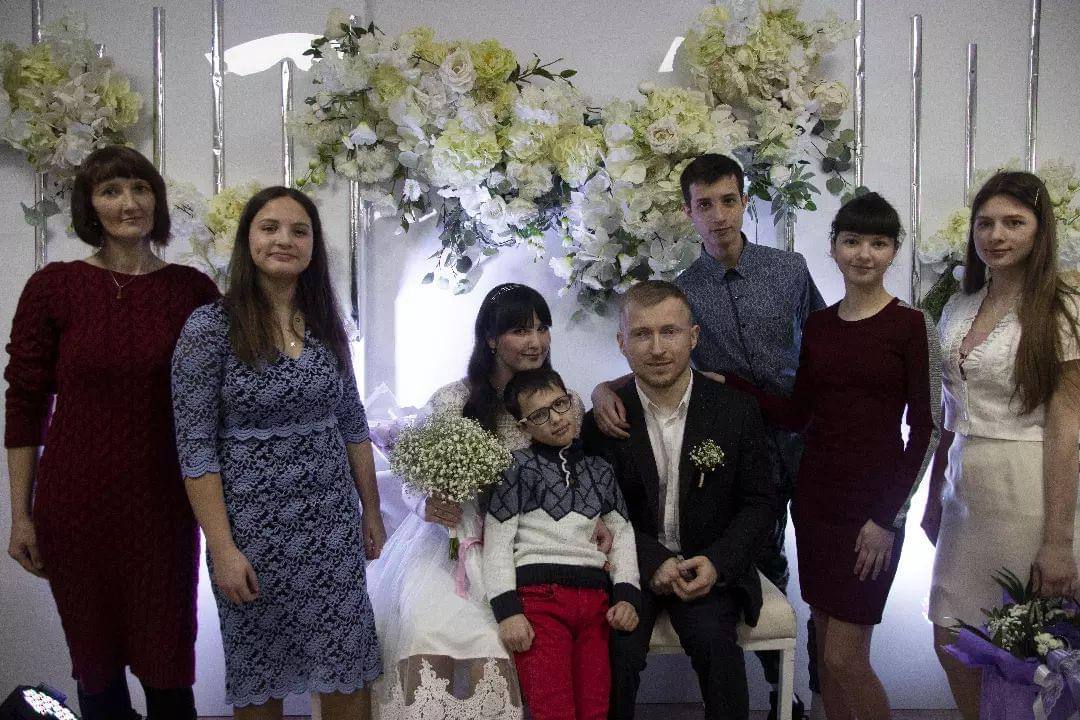 Kosta´s family (written by Pavel Sinko, IN Slovakia)
"Costa and his wife Victoria came with their children to Lucenec. Her 19 years old daughter Vicki, 6 years old son Alexej and 5 months old twins (Eva and Lev). They are so cute. We are helping them with the children´s doctor as well with other needs. We provided some basic needs, as baby bath, diapers…."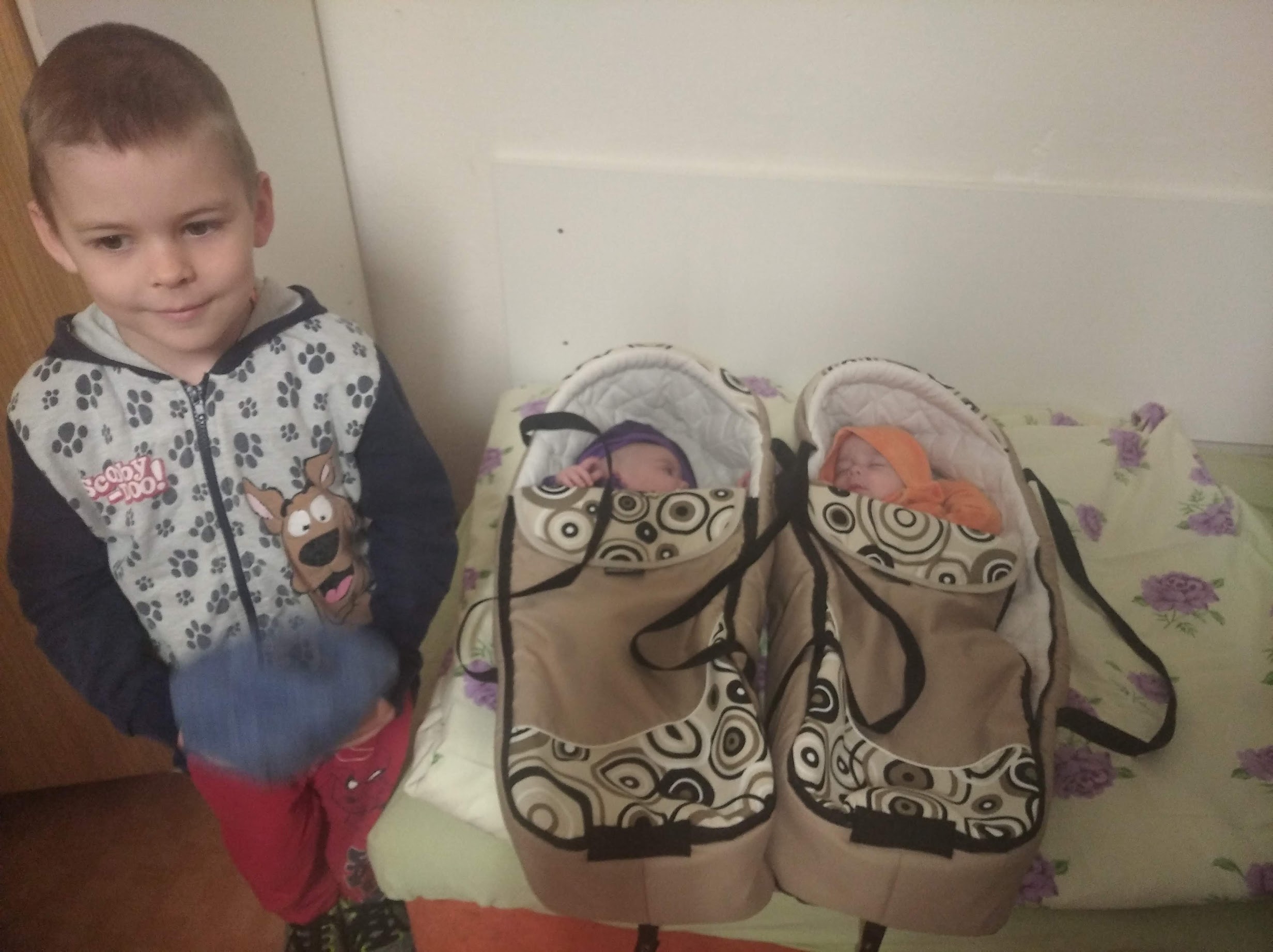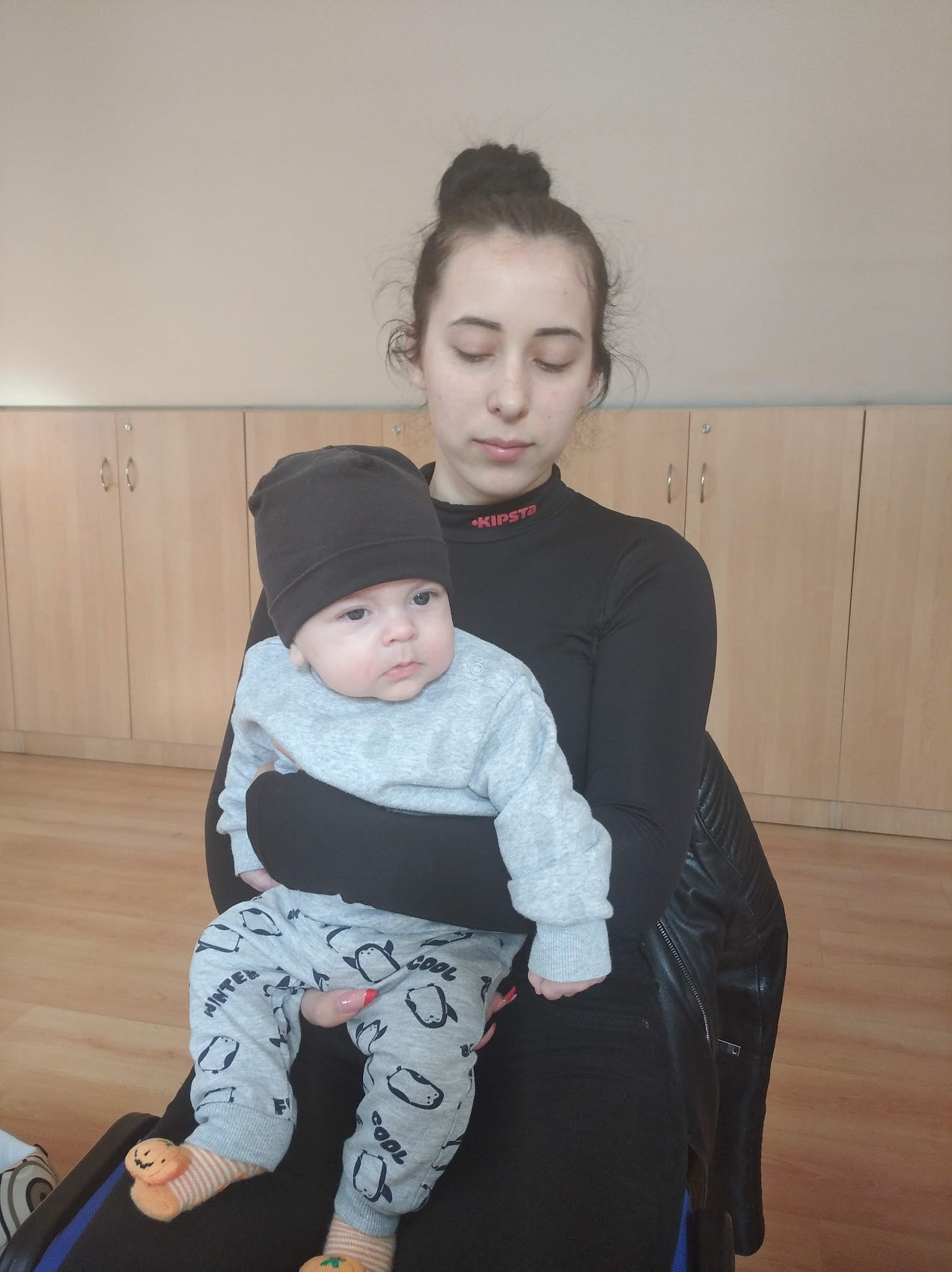 ……………………………………………………………………………………………………………………………………………………………………………
19th April
Written by Alison Lawton (Emmanuel Church Croydon)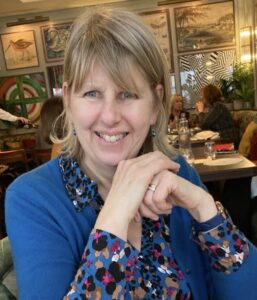 Last Wednesday evening, we at Emmanuel Church South Croydon were privileged to be joined by a team from International Needs at our monthly prayer meeting. The IN team included Mirel, zooming in from Romania.
Mirel shared with us some of the work that IN is undertaking in Romania in response to the terrible situation in Ukraine. This has led the IN team of evangelists to change the focus of their work from church planting to providing hospitality and care for the Ukraine refugees arriving on their doorstep.
We were inspired as we heard Mirel describe the love and care that the churches in Romania have shared with the stricken people arriving at their borders.
Since the crisis began, the IN Team have been helping in any way that they can. Providing warm clothes and shelter. Helping with transport across the country. Inviting refugees into the churches and into private homes. The scale and challenge of this work, with 1300 refugees arriving each day, has been hugely demanding.
It was immensely humbling to hear about the love, care and emotional support that the churches have been giving to the refugees. Walking alongside them. Sharing their grief and sorrow. Supporting them through the anxiety of not knowing where their relatives are. Upholding them in times of bereavement, and helping with the practical arrangements for women to return to Ukraine bury their husbands.
It was heartbreaking to hear of the work on the ground. The staff have given sacrificially of themselves and are exhausted. They are the eyes, ears and hands of Jesus in that place.
Here in South Croydon, we were moved by the situation, overwhelmed by the work being offered, inspired to continue to support them in prayer and financially, and to stand alongside them as they continue this work.
……………………………………………………………………………………………………………………………………………………………………………
14th April
Update from Pavel,  IN Slovakia
Below are some stories of families who have made it across the border, all have their own stories and sorrows, we are offering as much spiritual and social counselling to help them cope with their new reality. During March we had 69 people join us in the conference centre at Rackova, 29 of them were children all accommodated safely with food and lodging and play areas for the children. Our team are finding many other lodging places in Slovakia for different families who had made it across the border. Zena below came from Donbas in the east, travelling for 8 days with his wife and children, they arrived in Lucenec, my home town, to be greeted by our team who are now helping them and many others to find work and process visas for a prolonged stay in Slovakia.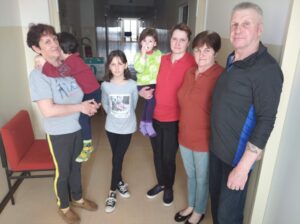 Our little town of Lucenec is receiving refugees every day, we now have 100 staying in accommodation around town, below is a photo of the town mayor addressing a group recently arrived. Together with local authorities, we are looking at ways to support them for the longer term, many will join us at the International Needs conference centre in Rackova.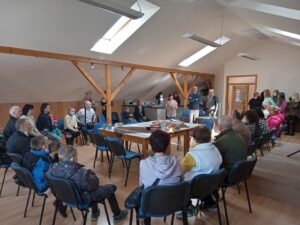 Volodomir and his wife Marina came across the border with nine children, three are their own children and the other six were from a Ukrainian orphanage that the family gathered on their way over to Slovakia. Our team were able to find housing for the family and also work for Marina while Volodomir is helping with the transportation of other Ukrainians.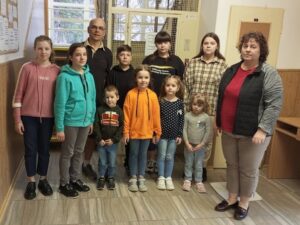 Thanks to all of you who have given us your support, if you are able, please continue to support our work with funds so we can go on offering basic needs and counselling support for these families.
……………………………………………………………………………………………………………………………………………………………………………
6th April
Update video from IN Romania
"Andrei is one of our contacts in south of Ukraine. He is one of the volunteers organising efforts of the 7 small baptist churches in Odessa area to receive and distribute support for the Ukrainian borders inside of the country." Mirel Talpes
"We pray every time we hear this alarm" Andrei
(This video may be disturbing to some due to the sound of sirens)
……………………………………………………………………………………………………………………………………………………………………………
4th April
Update from Mirel Talpes, CEO of IN Romania
"Dear friends,
We are especially thankful to God because He is our support and our strength at all times. We are so grateful for the peace we have in Romania and that we can share this peace with others. We have 64 refugees now living with us as we pray together for their families back home.
Together we pray for:
Wounded hearts,
frightened children,
children who do not understand anything,
destroyed mothers,
helpless old people,
men who do not find their purpose here…
for everyone God has given us the strength and wisdom to be able to support
We are providing emergency resources for families at the borders and in Ukraine:
food and clothing boxes
blankets
diapers
hygiene bags
and much more
Thanks to all of you who have given us your support, and your love, so that together we have been able to be a help in these times for these people. Thank you for the open heart you have shown and for your special generosity. May God reward you fully!"
Some photos of IN Romania's support for refugees: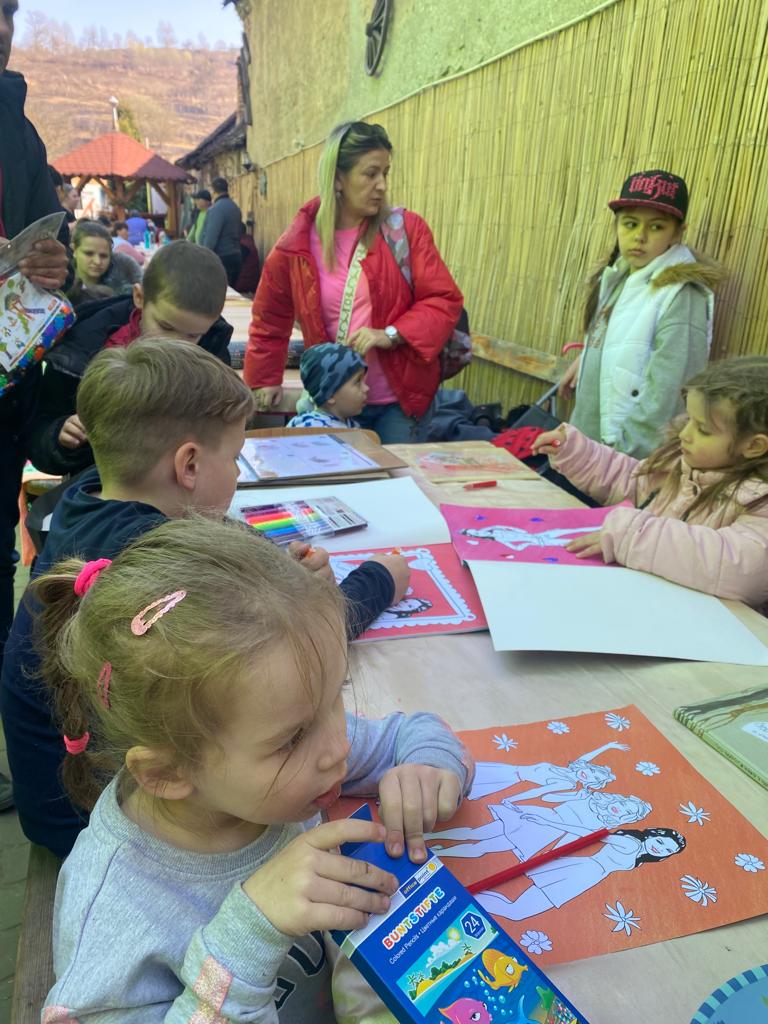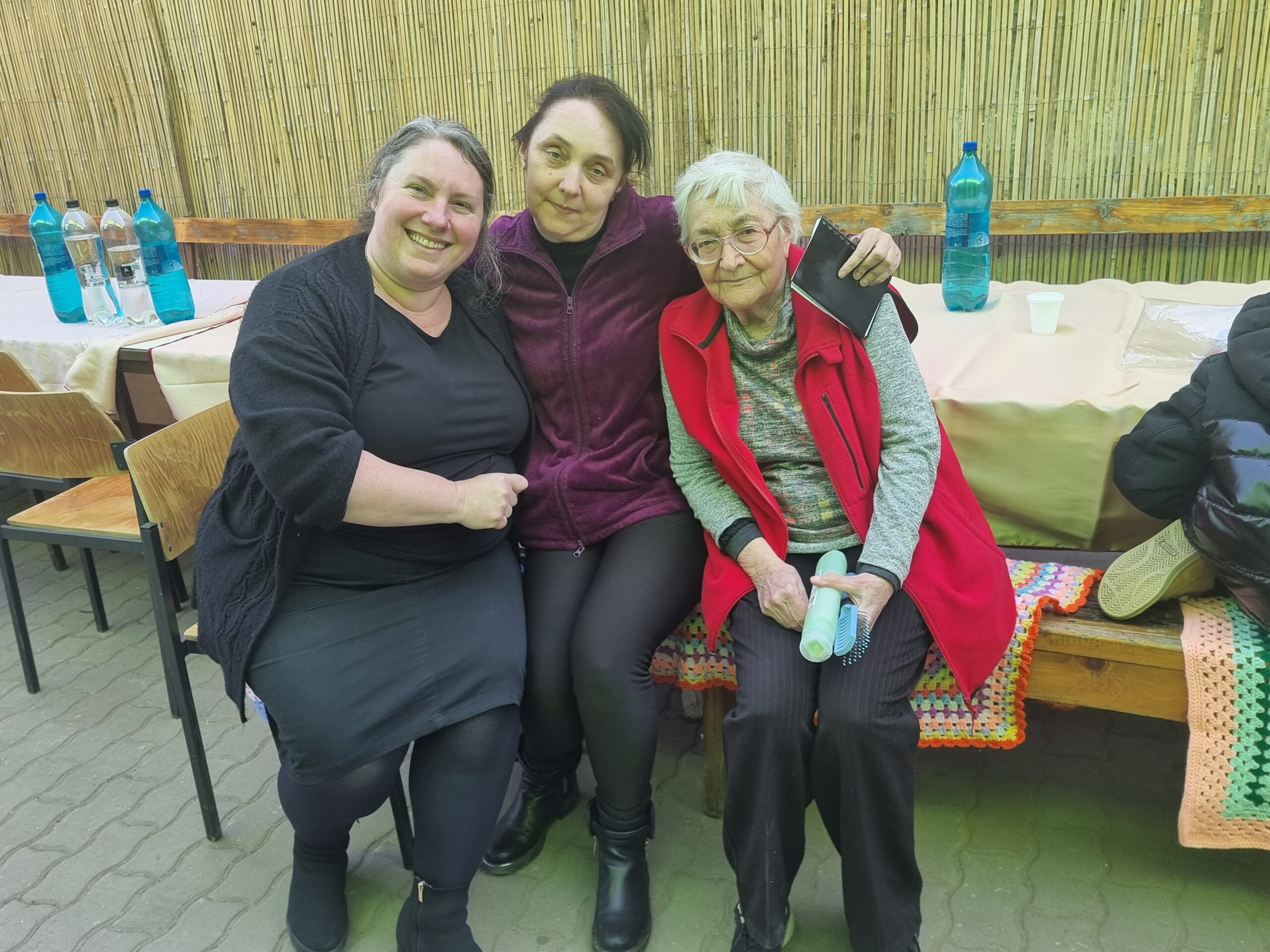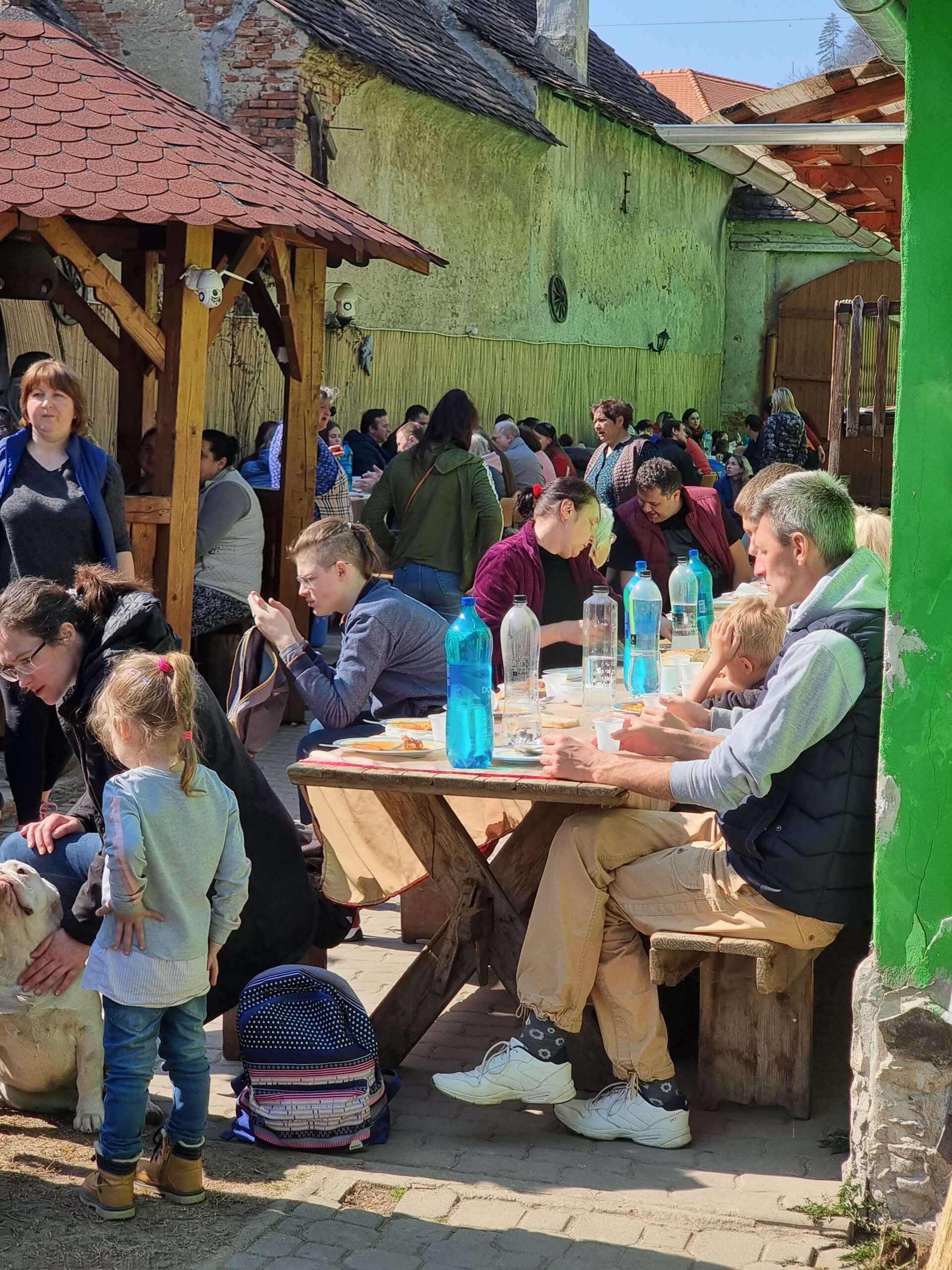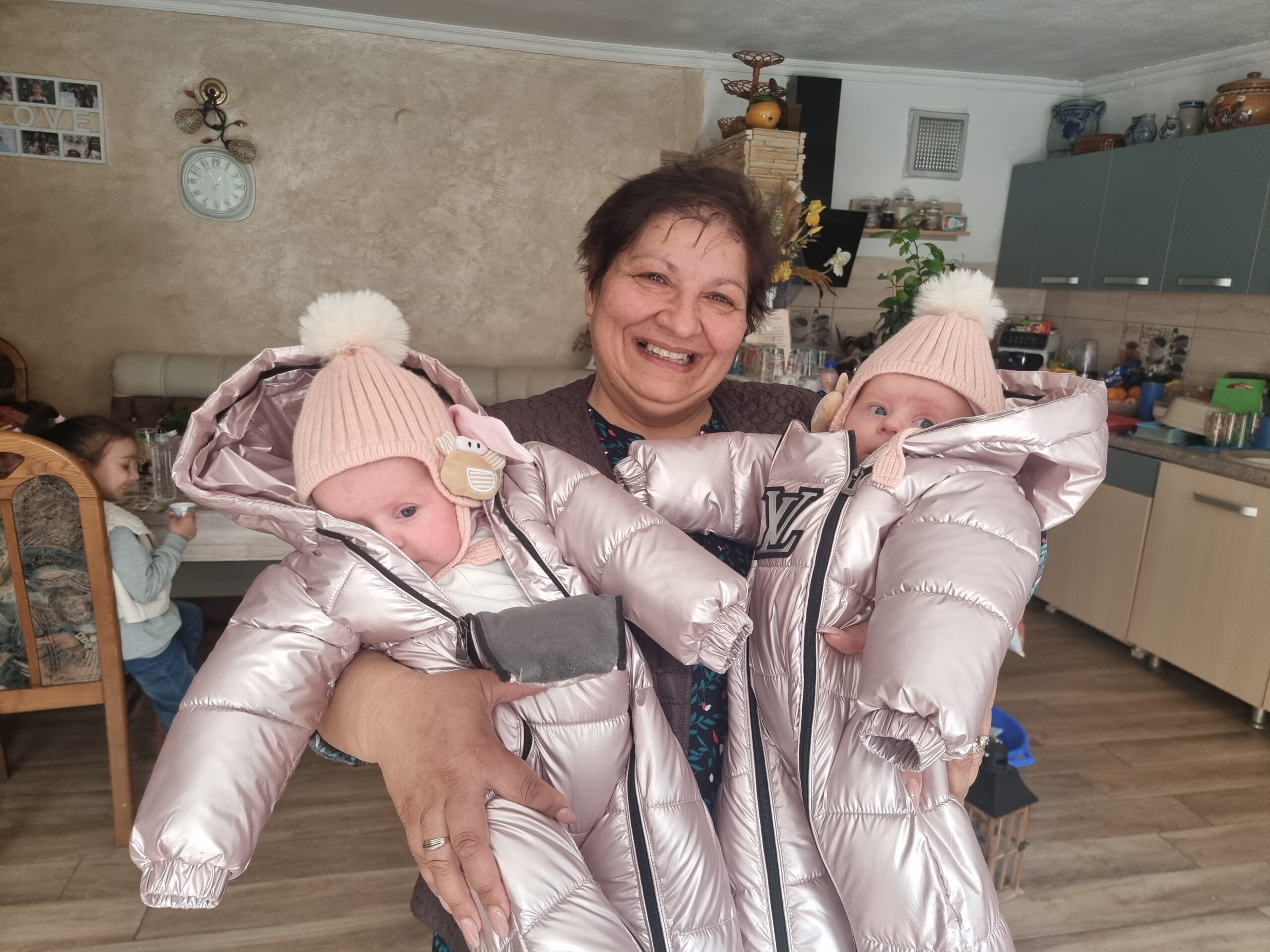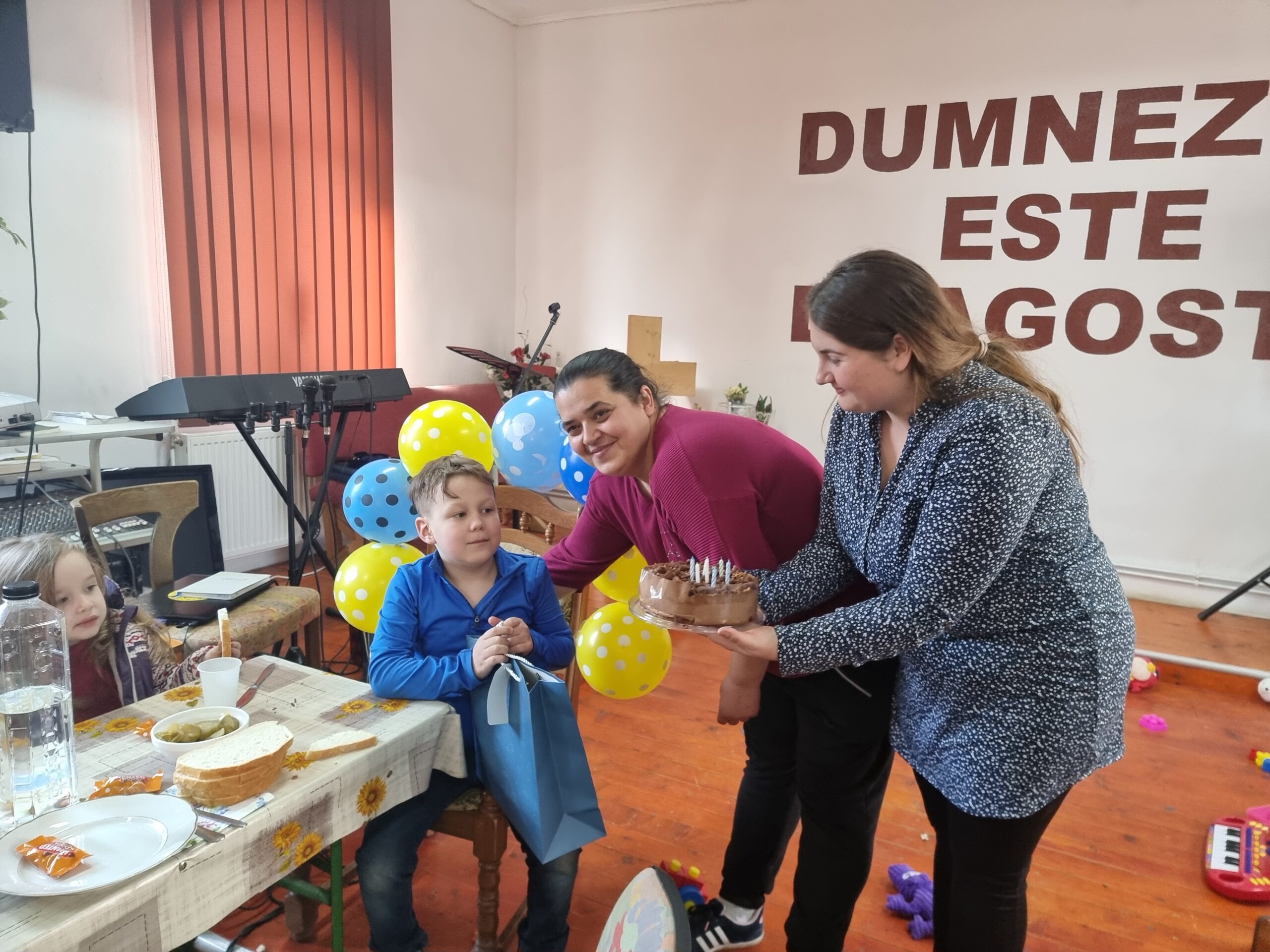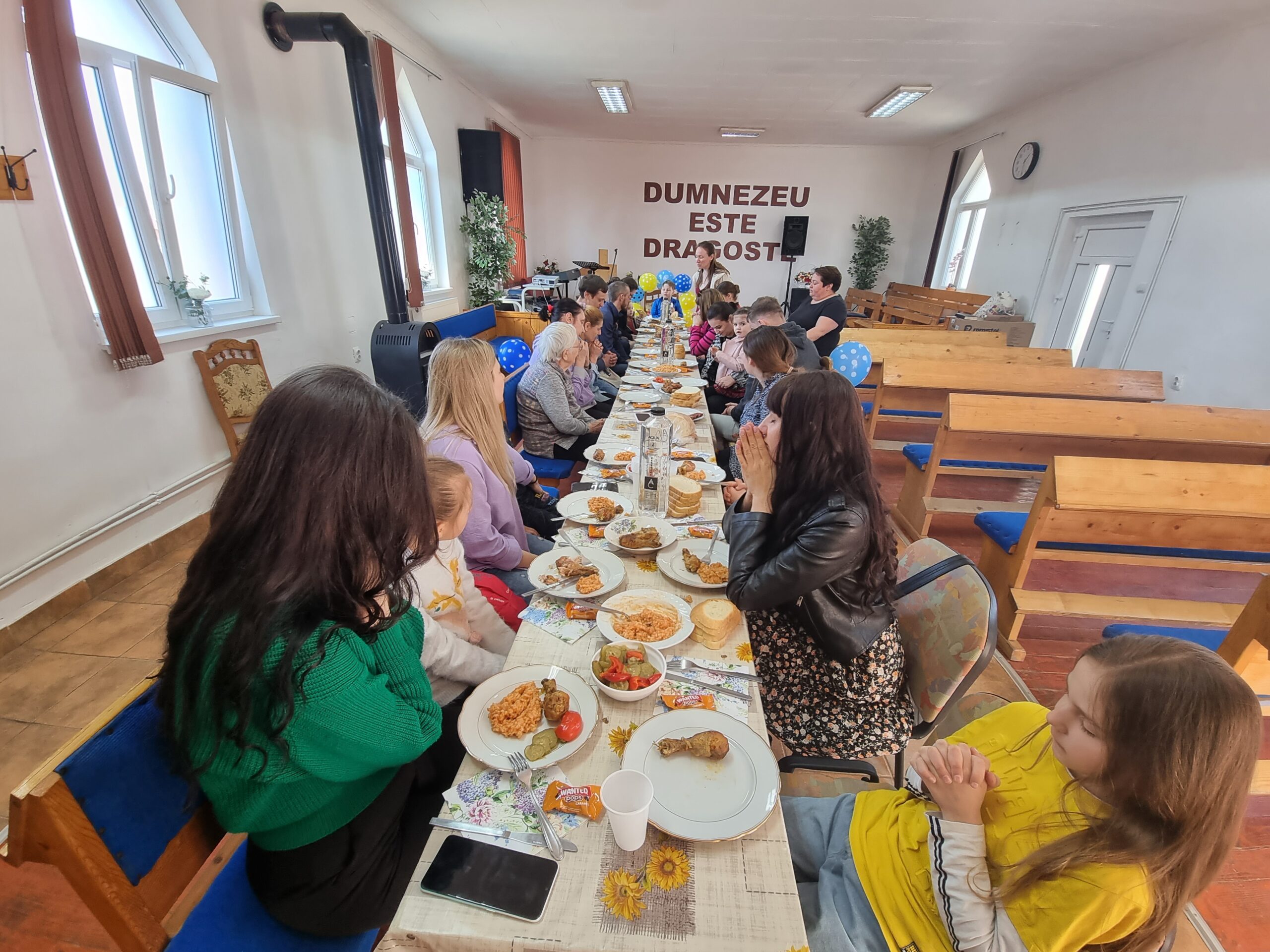 ……………………………………………………………………………………………………………………………………………………………………………
28th March 
Written by Ali Mbugua
IN Romania are helping send much needed resources into Ukraine including food, sanitary products, medicines and more. Through a network of local churches and christian organisations, they know what is needed and are collecting requested items for distribution in Ukraine. In Southern Ukraine there are church hubs where refugees can shelter away from the bombing. Within these hub churches they run short gatherings for meals and encouragement (photo below). These sessions are open to all who want to join. Our team in Romania are helping support these hubs and to counsel Ukrainian families.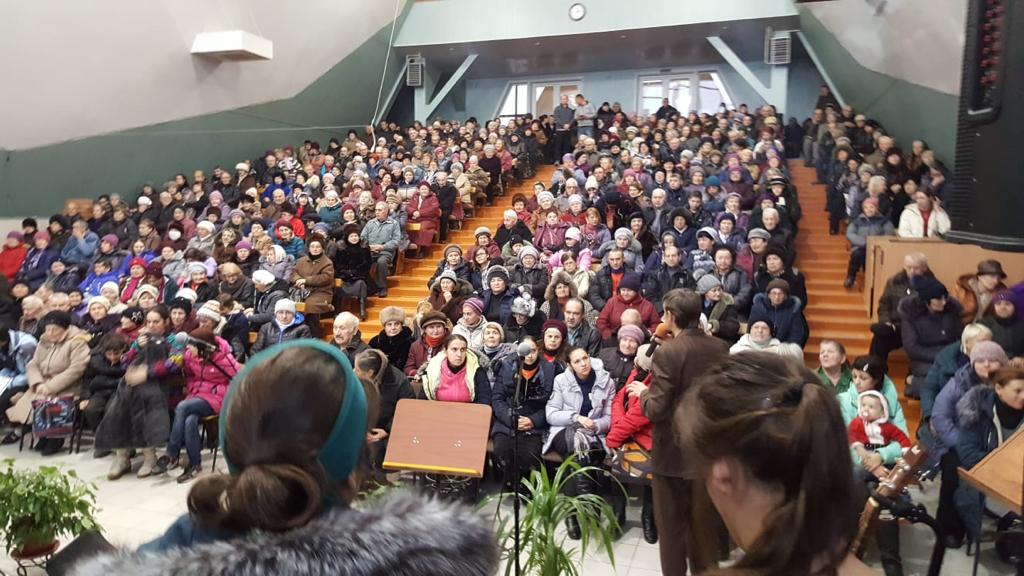 IN Romania began in 1994 to help local churches share God's love with those around them through 20 church workers. They work in 5 locations across the country. Mirel the CEO of IN Romania writes:
"In our daily work, our church planters work hard to help those in need in the poor areas where they serve with the Gospel. With the same tenderness and commitment, they immediately intervened to help in the tragic situation created on the border with Ukraine by the influx of refugees."
Main ways IN Romania are helping:
1. Emergency support at border crossings where families can wait 24-48 hours to be allowed to pass. IN Romania volunteers are providing blankets, warm clothes, food and medical support.
2. Extraction from the border area and transportation to safe locations inside of the Country
3. Preparing shelters for refugees in safe locations in Romania, preparing food and assisting with legal documents when necessary
4. Contribution to the effort of Church Community to send emergency help to Churches in Southern Ukraine
Photo of the delivery of essential resources for families in Southern Ukraine below. IN Romania are supporting the work of Evangelical Churches in Romania to send these resources into Ukraine several times each week.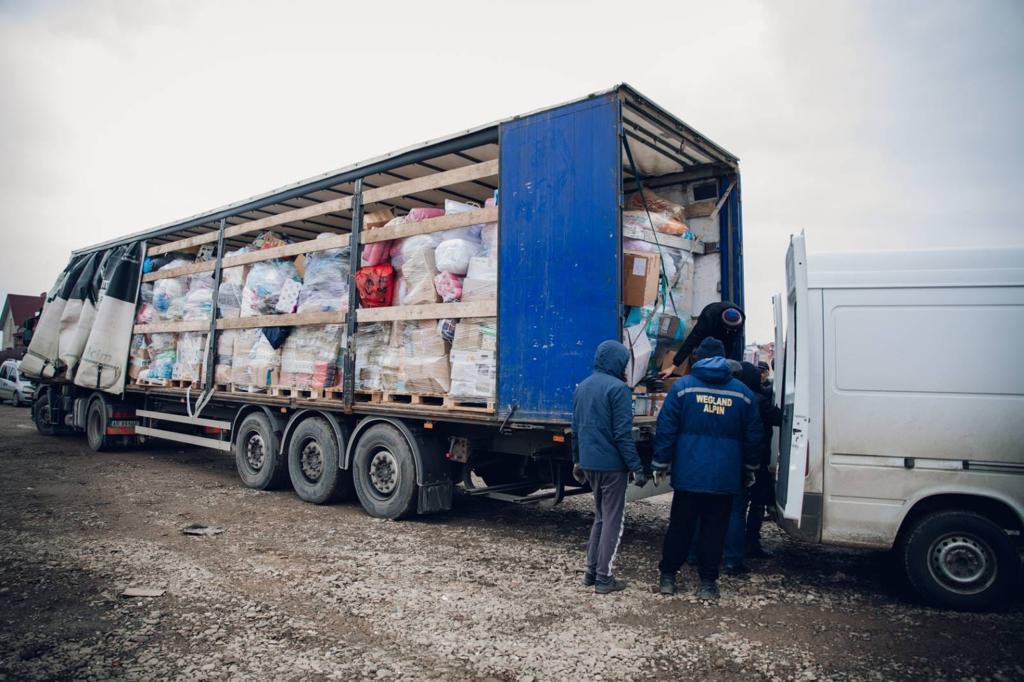 Photos of destruction from the journeys into Ukraine: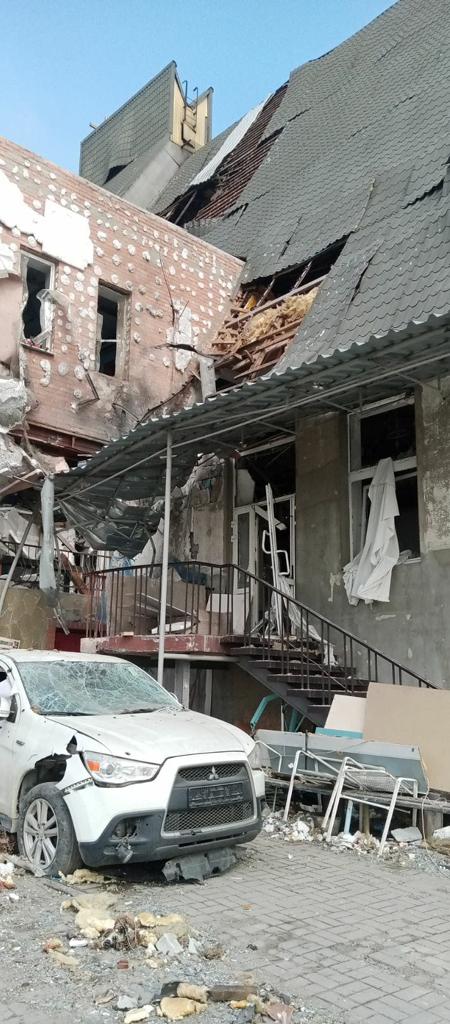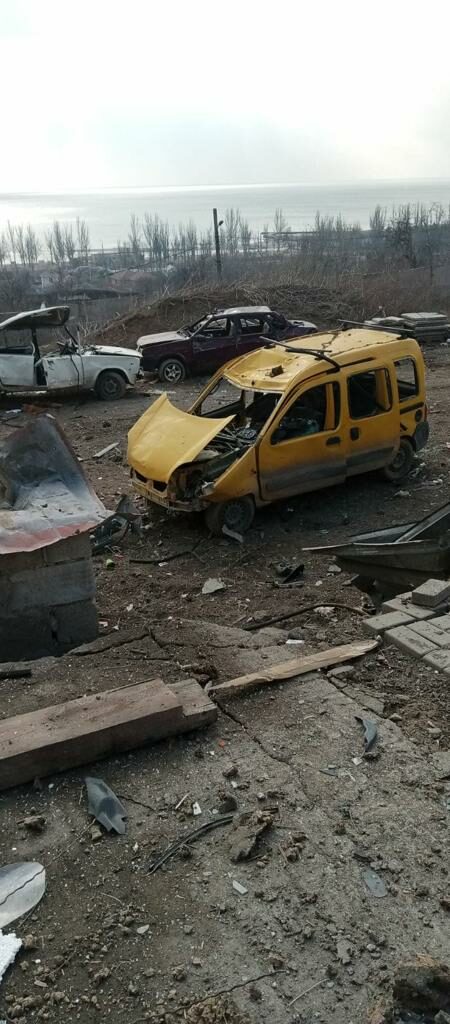 Prayer Requests
Please join us praying for:
Safety for those travelling into Ukraine
Safety for families sheltering in hub churches
Safety for families fleeing Ukraine
Thank you.
……………………………………………………………………………………………………………………………………………………………………………
24th March 
Written by Ali Mbugua
Please watch the video below to hear Sergei and Natasha's powerful story. With your help, we are supporting hundreds of families like this one.
……………………………………………………………………………………………………………………………………………………………………………
23rd March 
Written by Ali Mbugua
Since the conflict began, just a month ago, our teams have been networking and planning how best to support families who are fleeing Ukraine. Our teams in Slovakia and Romania have been welcoming refugee families into their homes, churches and our conference centre to provide accommodation, food,  security and other basic resources. Through this they are hearing many stories, here are some told by Pavel the CEO of IN Slovakia:
"Mother Ola is 74 years old and her daughter. When I saw how much stuff they brought with them, I had tears in my eyes (two small bags in their hands). Ola is glad to be saved, she smiles when we smile, but her mind is at home. I can't imagine how difficult it can be for an old woman to move to a foreign country."
"Leoind and Nela escaped early on to best protect their disabled daughter Arina (she is 13). They didn't have a basement and were not able to hide with her so they left. Two days after their departure the town was surrounded. When people tried to escape, they were killed. This family are so grateful to be alive and have reflected that they have been saved because of their daughter."
"Pavel and Oxana (pictured right) have already escaped twice. They used to live in Krym. In 2014 the Russians took it over and they had to escape. They moved to Irpin (near Kiev) where they settled and built a house again. Now it has been destroyed, and they had to escape again. They have called themselves 'double refugees'. They say that knowing they have  a home in heaven has a stronger and deeper meaning for them. Though the first days in Slovakia were difficult for them. We gave them time to rest and be alone. But later we spoke with them. It is so encouraging to have peace in their hearts, even if it is hard."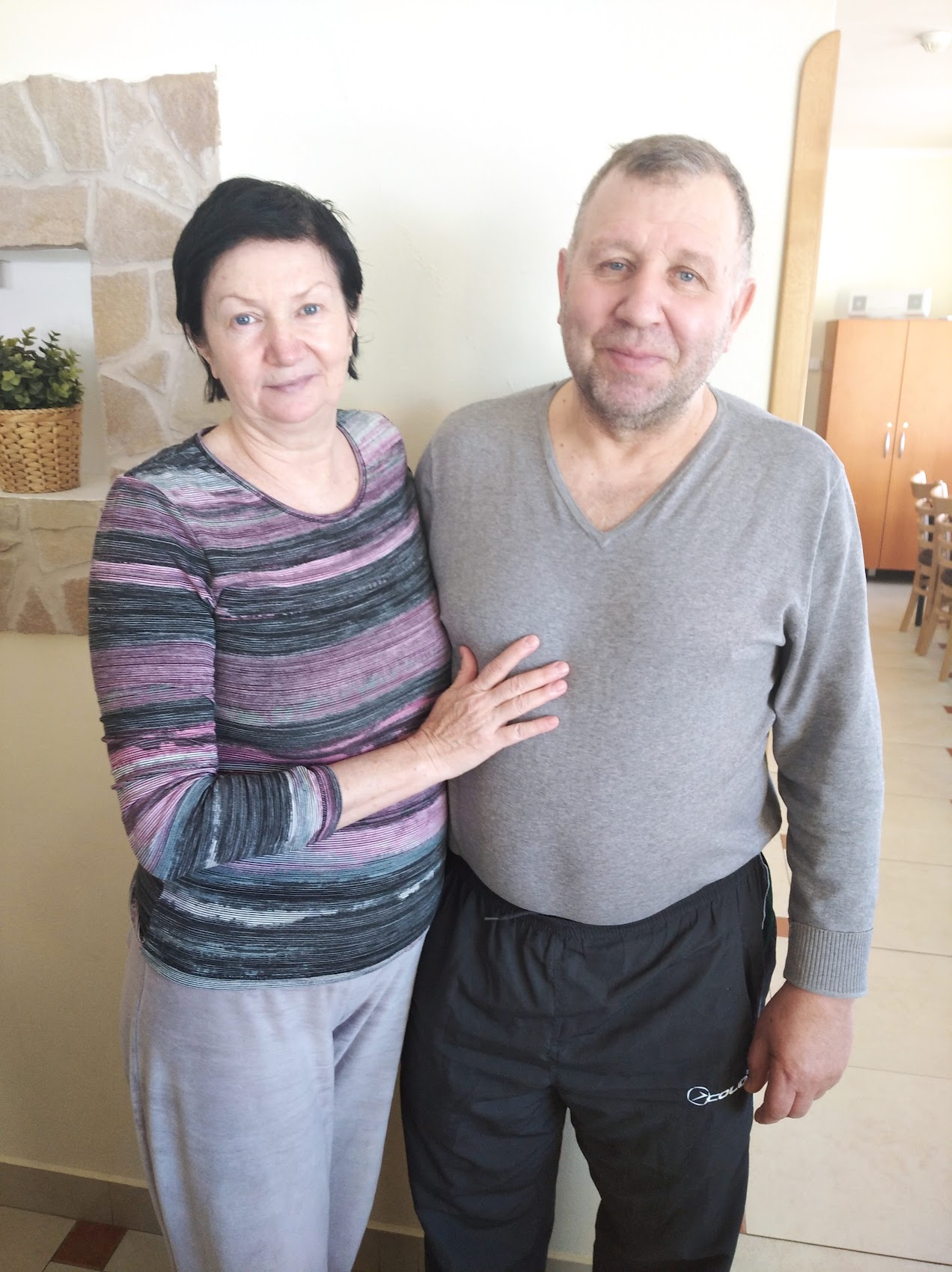 Each person has their own story and these are just a few. Thank you for helping us to provide refuge for these families. And for helping our partners to be able to meet with them, help them and counsel them through their pain.
We are finding that families arriving to our areas of ministry have immediate physical needs but also come with the trauma of their experiences of family separation and more. At our conference centre in Slovakia families are meeting each evening with our teams to pray and worship together for those who want to. These times of ministry are proving very powerful. Please pray for these encounters.
Some of the ways we are responding so far:
Sending resources to vulnerable families in Ukraine from Romania
Helping church families host refugee families in Slovakia and Romania
Setting up support hubs with churches and Christian communities
Helping families settle in their temporary accommodation with blankets, clothes medicines etc.
Providing accommodation for 80 refugees at our conference centre in Slovakia
Funding travel costs for those moving across the country
Providing spiritual counselling
Running Christian activities for children, youth and adults
Having raised £50,000 to date, we are hoping to raise at least £200,000 over the coming months. Can you help us?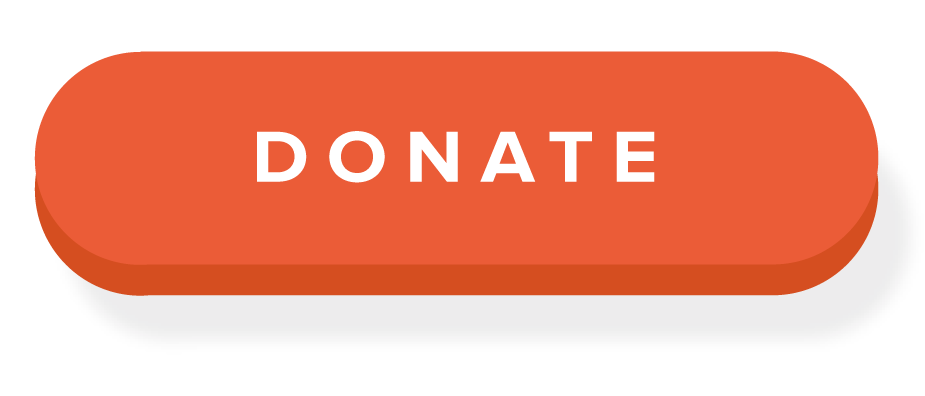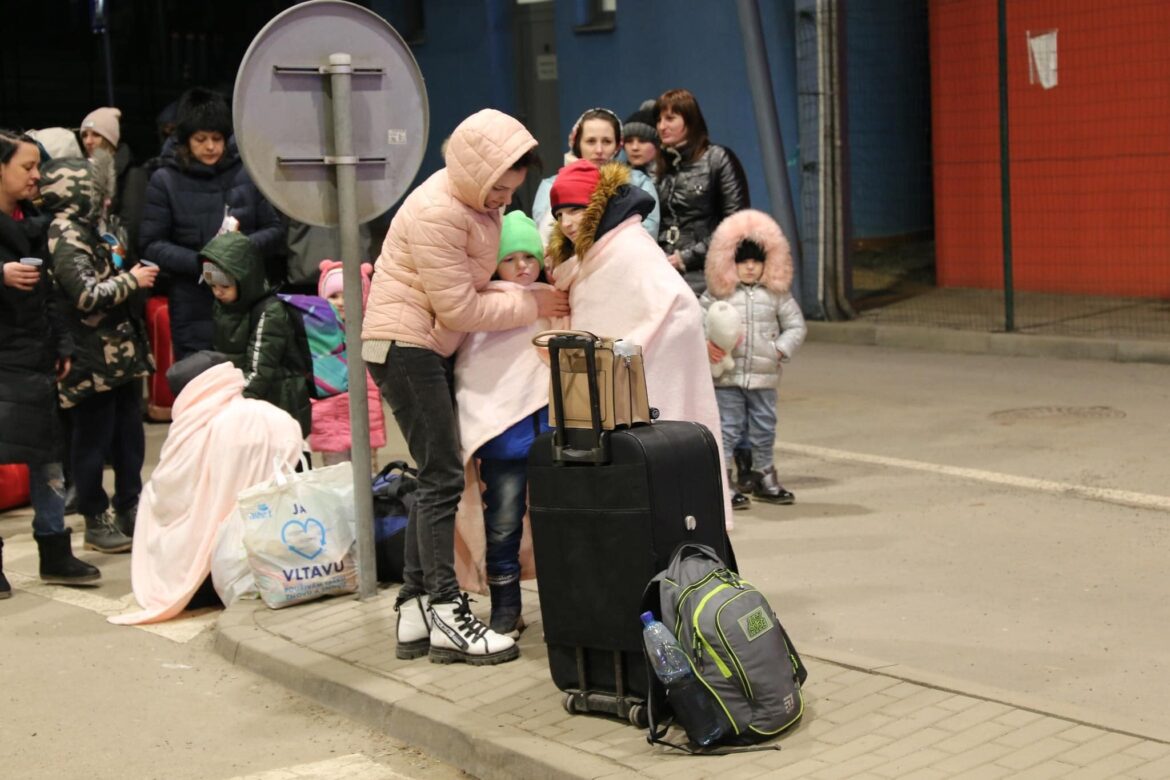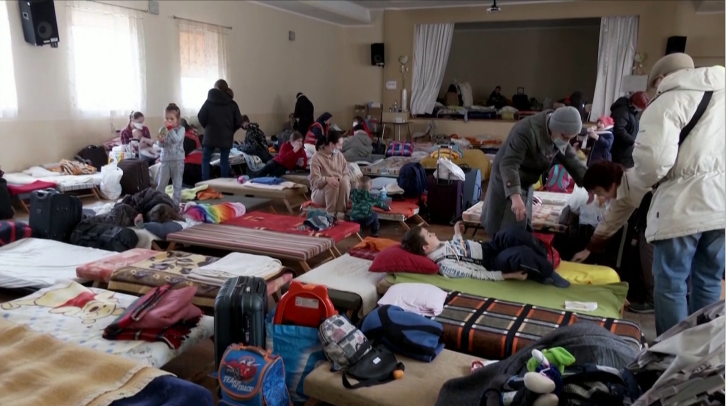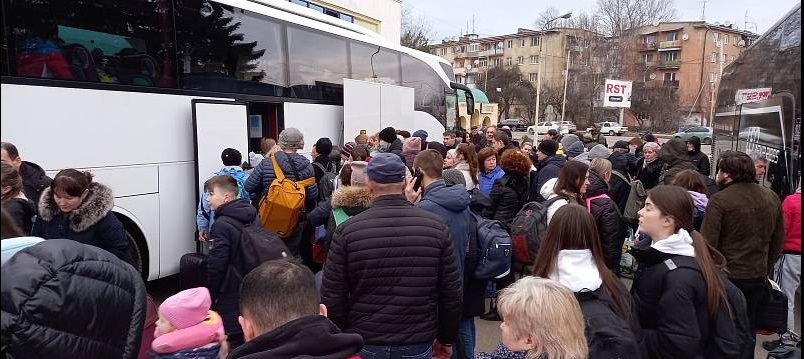 Prayer Requests
Please join us praying for:
The hundreds of refugees our partners are meeting with each day
The network of Christians we are working with in Slovakia and Romania
Peace in Ukraine
Thank you for reading our first update. Please see the video below to meet Pavel and Mirel the CEOs of IN Slovakia and IN Romania: