September 1st, 2023
Remembering Dieudonné Kone
Dieudonné Kone 19th July 1986 – 25 August 2023
Bobo Dioulasso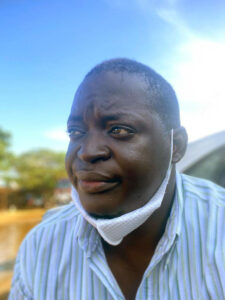 Friends, it's with great sadness and shock that we learned of Dieudonné's untimely death last week.  He had been taken seriously ill with complications from malaria and died with his family around him late on Friday evening.
I got to know Dieudonné in 2015 when I first travelled out to meet the team. We developed a firm friendship and partnership that was able to move our project forward with increased support. He was a thoughtful, kind, considerate, and intelligent young man. We readily laughed at our own mistakes and misdemeanours, and he willingly forgave my cultural clumsiness. He persuaded me to initiate the maternity unit project and more latterly the expansion of the classrooms at La Bonne Nouvelle school. It was his skill in the administration of the medical centre and latterly other projects in Burkina, that gave partners confidence. We fail to comprehend why this has happened, but we give thanks to God for the steadfast race he ran.
Please pray for his widow Nafi and their two children Leslie (9) and Prince (6), as well as his parents Pastor Jean and Rachel, Esaie, and Tabitha, the wider family, and the community of Bobo that will dearly miss him. If you would like to write a letter to send to his loved ones and the IN team, please send this to our office marked for Dieudonné and we will compile all communication from everyone. We have also created a special page at remembr.com/dieudonne.kone on which you can share messages of condolence or your own memories of Dieudonné.
Danny Morris
CEO and Executive Director International Needs UK