July 6th, 2018
Meet some of our volunteers!
Every week, we have a number of volunteers who come into the International Needs office in Selsdon. They give their time, energy and skills to support us in our mission to serve families around the world and we are very grateful for their support. Here, some of our volunteer's have shared with us why they have decided to give their time and what they get up to!
Steve:
"I love coming into IN office as a volunteer. There is a friendly family atmosphere and it's great that I never quite know what I will be asked to do. I appreciate the variety of tasks, as it means each week I see a different aspect of the great work that International Needs do and I get so much out of it. I have been able to volunteer for a number of years and have elected not to do a specific task, but instead to support where the IN team needs me the most.  As a result, I have learnt many new skills and learnt so much about the challenges and the blessings taking place in the countries and families that we serve and support.
Maggie:
"I like to volunteer for IN because it is a very friendly and welcoming office and the work IN does around the world is great. This has kept me coming back for years now, to help out every Tuesday. My favourite jobs are helping to track donations and my least favourite is sorting the storeroom– I have enough of that to do at home! I see the vital importance of helping families in poverty around the world partly because my children have spent time in Ghana and Zambia. Focusing on helping families as a whole is very important. When people ask me about International Needs, the first thing I tell them is that it is a Christian Charity; I see this as an opportunity for me to share my faith with others."
Joe:
"I have been volunteering at IN since mid-January this year. I got involved with IN through Many Ogilvy Hands, the charitable team at the advertising agency Ogilvy. Whilst I was at Ogilvy, I was fortunate to go to visit International Needs' partners in Buikwe, Uganda three times; once as a volunteer and twice as a team leader. This partnership project between Ogilvy and International Needs constructed a secondary school there.
In 2016, I went on a planning trip to Nepal with others from Ogilvy and Danny Morris from IN to investigate the possibility of a new partnership project there. I am delighted to say that this has now become reality and l was a team leader last November to the new Many Ogilvy Hands project in Nepal.
Having seen first-hand, the amazing work that International Needs do, I could think of nothing better than giving up some time to help out wherever I can. I enjoy coming to the office, the people here are great and there is always a great sense of enthusiasm. I am passionate about all of the IN projects, but I have to say that the one project dearest to me, is the Water project in Uganda."
 ___________________________________________________________________________
We are so grateful to all of the people who give their time to support our work here in the UK! To everyone who volunteers in the Office or at our events, thank you for your commitment to us and to families around the world.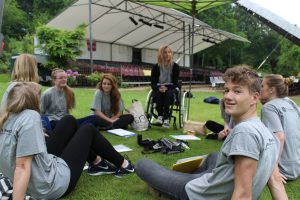 We are always looking for volunteers to help us at our events. If you want to find out more about volunteering with International Needs UK, please get in touch via email to inuk@ineeds.org.uk