December 2nd, 2019
It's #INUKGivingTuesday2019
Giving Tuesday has come around again! And cheeky Walter the Duck is up to his usual antics. Every year he likes to take on a new challenge for a great cause. This year he will be raising vital funds to help farming families in rural Nepal, for community development, resilience training and farming support. He has been plotting away these past few days and finally, today, we can share his fundraising plan…
But before we go on, we want to make sure you know you can donate HERE.
What's Walter the Duck up to for Giving Tuesday this year?
This year he's a farmer! In solidarity with the farmers we are working with in Nepal, Walter has got a big farming plan for the day. You can see him below in his smart farming gear.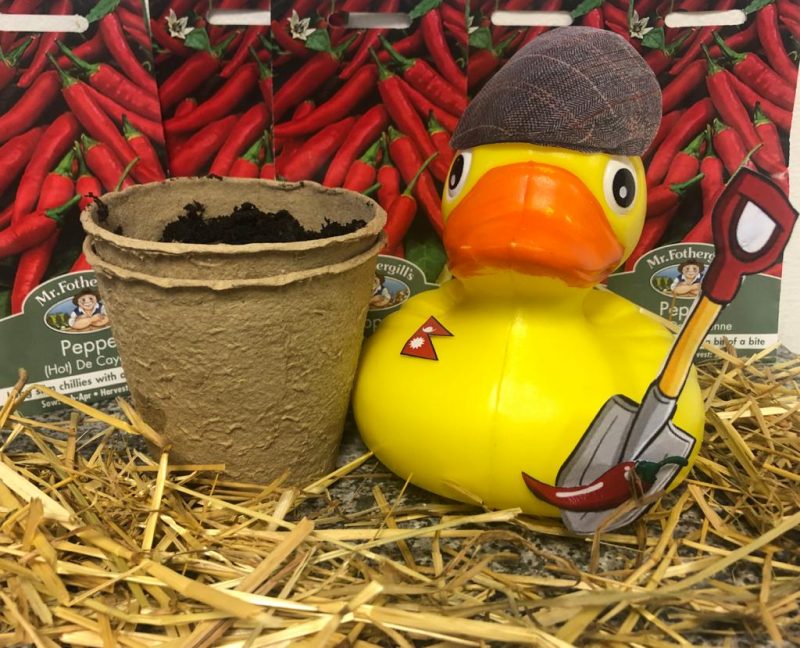 The Cause
Families in rural Nepal had their lives devastated by the earthquake in 2015, and with subsequent landslides. Many of them still struggle to support themselves as they not only lost family and friends, they also lost livestock, crops and farming tools. Their livelihoods were ruined.
That's why International Needs have launched a Livelihoods Programme in rural Nepal, to help families invest in small farming businesses and to be able to support themselves.
And today, Walter the Farmer Duck wants to raise £10,000 for this work. This will be enough to help 29 families to set up new businesses and improve their farming, and will benefit the wider community.
But how will you raise £10,000 Walter?!
Walter the Farmer Duck has already been on the case, and has secured some match-funding for the day, so every donation that is given will be doubled! This means we just have to raise £5,000 today (on our online giving page) to reach the £10,000 target. Great job Walter! A big thank you to all our match funders: A J Bennewith & Co , Will Drafters Ltd and others.
Will you actually be farming Walter?
Yes! For every £50 raised, Walter the Duck Farmer will be getting busy and planting a chilli plant in a pot. We've got 100 pots lined up the stairs in our offices, ready to help us raise £5,000. We are calling this our #INUKChilliChallenge. Walter chose to plant chilli seeds because he really loves the deliciously spicy cuisine of Nepal.
You can follow our progress on Facebook, Instagram and Twitter.
But there's more – for every £1,000 marker we reach, Walter has convinced one of our brave staff members to eat a chilli, with the video going straight onto social media throughout the day. Please feel free to join in: film yourself eating a chilli (one that is safe to eat) and share it on social media using #inukgivingtuesday2019 and #inukchillichallenge.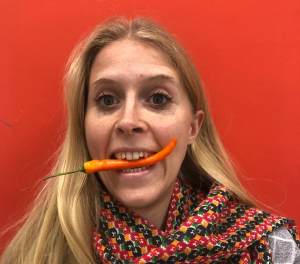 So that is our plan for the day. Will you help us?
Just a reminder, you can donate HERE.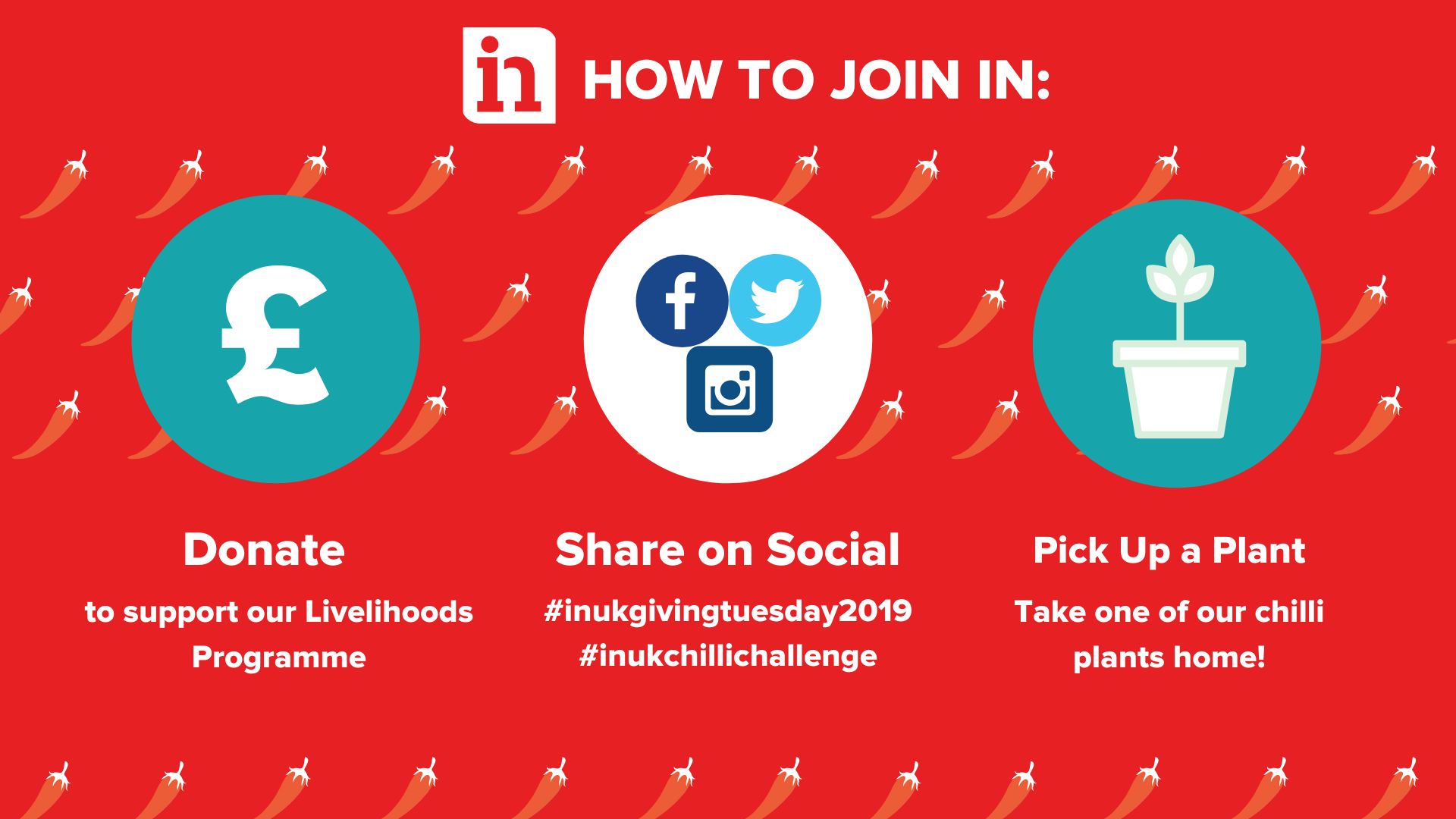 ***
A bit more about the work in Nepal…
Imagine: 
How do you restart from nothing?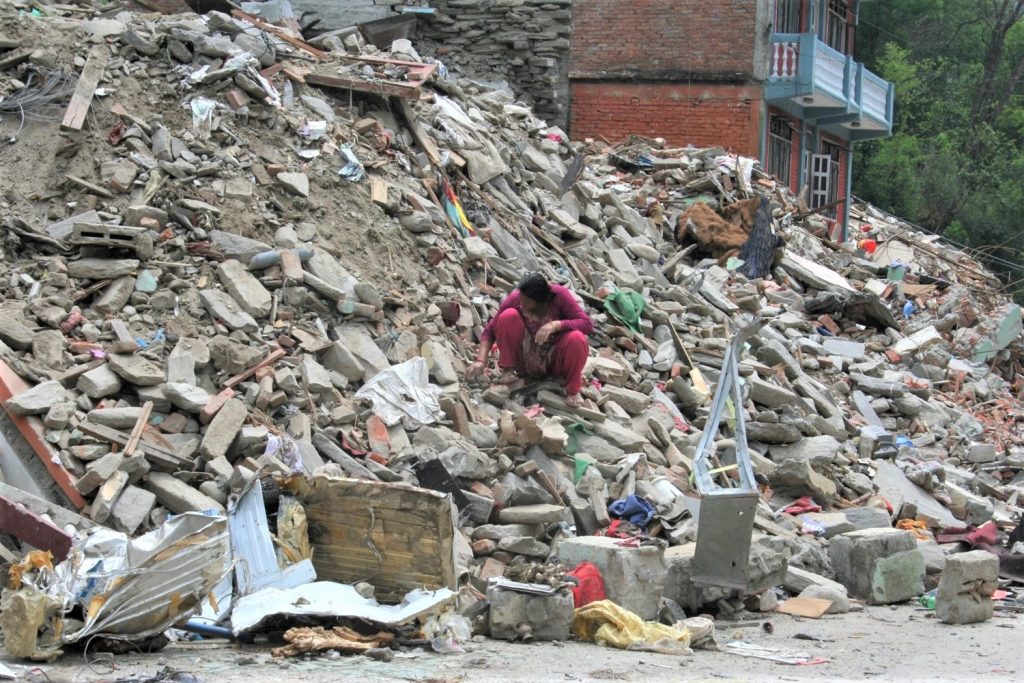 This is the difficult question that families face in the Sindhupalchowk District of Nepal. This area experienced a 6.7 magnitude aftershock following the Nepal earthquake, with thousands of lives being lost, along with countless homes and livestock.
The majority of families in this area earn their living through subsistence farming, but how can they replace lost crops and livestock without a means of earning income?
In 2018, INUK, in partnership with International Needs Nepal, started a Livelihoods Programme to help families restore their livelihoods by providing training and start-up resources. Many families have already been helped through this programme. We would like to expand the capacity of this programme in 2020 and empower more families to regain independent livelihoods. With £10,000, we can help 29 more families, which will have a wider impact on the whole community.

The vision of IN Nepal and INUK is to see families' lives improve dramatically in the rural areas where International Needs Nepal operates and to see families empowered with life skills and livelihood skills for a sustainable future.
"Families are supported for the start-up costs of business activities. For example, they will get animals, machines/tools, and skills training. This helps them to generate more income to support their basic household needs, including their children's education, and health.
They learn farming skills, marketing, disaster management and adaption, cooperative management, and saving and credit knowledge. IN Nepal is not just undertaking activities, but emphasises the process and knowledge transfer, with the aim of empowerment."
– Shiva Dhungel, IN Nepal Livelihoods Programme Coordinator
***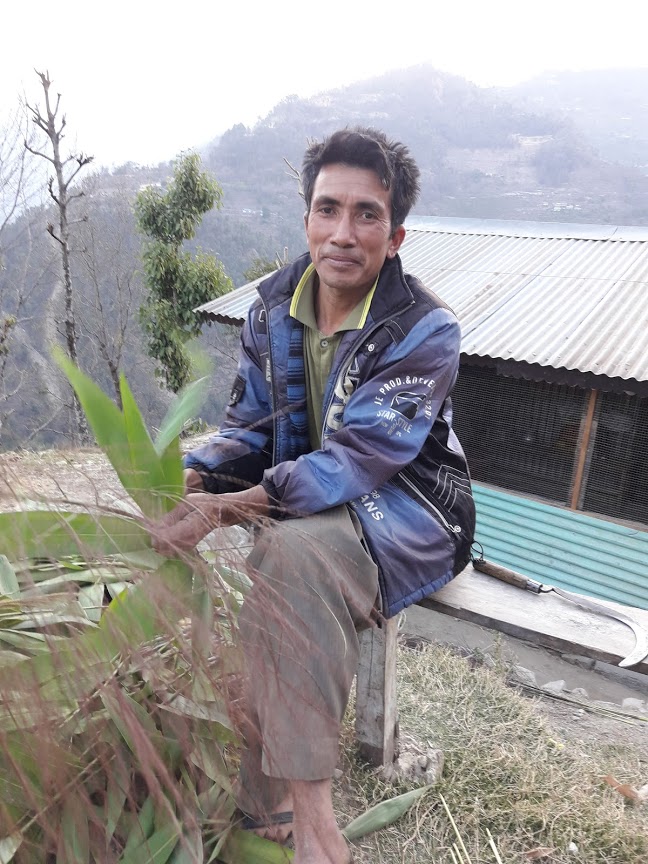 Amrit is an innovative farmer growing oranges, coffee and raising chickens who has been supported by IN's Nepal Livelihoods Programme.
Thanks for reading, and please get in touch to find out more:
Ali Mbugua, Operations Director, email: alim@ineeds.org.uk, telephone: 01883 331332