July 8th, 2019
How Far Do You Go To Get Water?
"Four seconds."
This was the response that IN Uganda National Director, Justus Miwanda, received from a young boy when he posed this question during a school presentation on his last trip to the UK.
Justus shared with children here how different the situation is for children in Uganda their age: "In my country, Uganda, most of the children would walk over an hour, a distance of about  2 km to fetch water."
As a result of this difficult reality, last year INUK committed to partnering with 12 villages across the Buikwe district of Uganda over a three-year period (2018-2020) to bring clean water closer to these communities.
Where We are Working:
Pre-WASH Project Conditions:  When the WASH Programme began, there were very few near-by water sources which meant that families (particularly women & children) were required to spend hours each day walking to collect water from remote and unsafe sources. These water resources were also not reliable. High amounts of waterborne diseases were recorded in the area.
Steps Taken in 2018
2018 was a year of building relationships with the 12 villages that we are working with in Buikwe District. The local IN Uganda team collaborated with community members to map out their priorities and plan how the WASH (water, sanitation & hygiene) Programme could achieve its goal of increasing access to clean water for local families and improving sanitation & hygiene education. We have been able to implement various WASH  interventions across these villages. We have provided a total of 8 new functional water sources and rehabilitated 15 existing water sources as well as helped 15 families build toilets. While these numbers are encouraging, we never want to lose sight of the individuals who we are working alongside of in these communities and the direct benefits that the WASH programme is providing to their daily lives.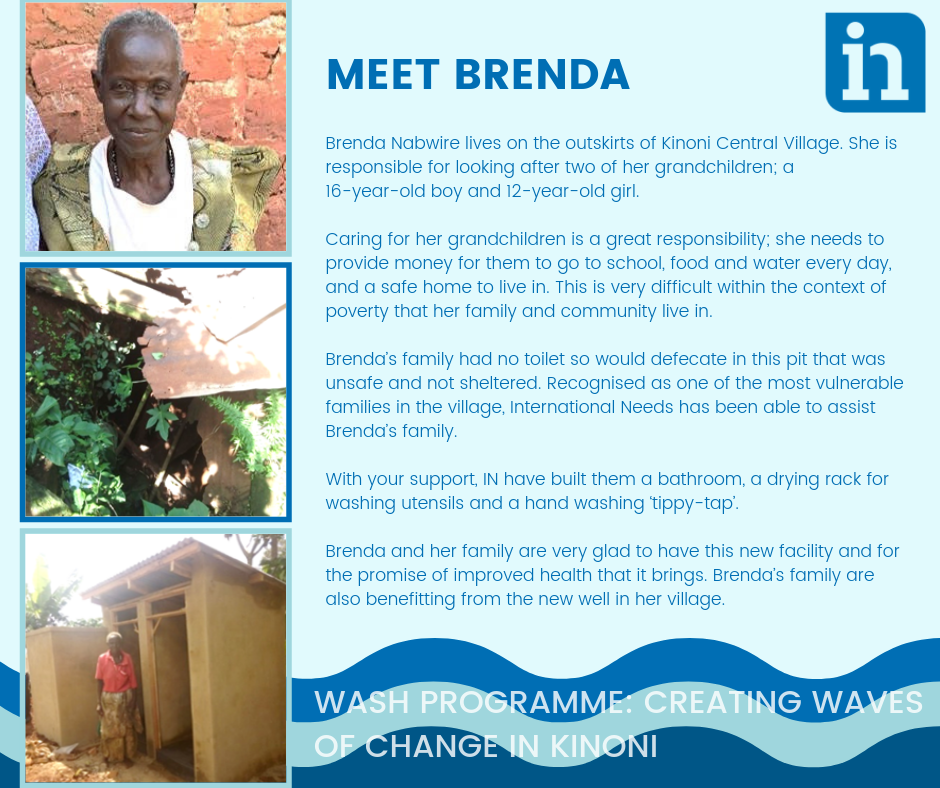 Next Steps
Over 2019 and 2020, we want to:
drill more wells
protect and repair existing wells and springs
build more toilets and run more hygiene education sessions in schools and local communities
start medical camps in the villages to identify and highlight waterborne diseases, and administer HIV/Aids testing
run drama shows about hygiene in each of the villages, to promote improved practices in an engaging way
Join With Us:
To run and complete this programme over 2019-2020, we need a total of £200,000. So far we have raised a total of £70,392 of this £200,000.
How Can You Help?
As this is an ongoing multi-year project, a great way that you can help us meet our project goals is through joining our IN Family, which is a group of committed supporters who give on a monthly basis to a project area that they are passionate about. This regular support is invaluable as it allows us to plan projects precisely and budget most effectively. You can find out more about becoming an IN Family Member here.
In closing, the IN Uganda National Director Justus Miwanda, wanted to share a few words of thanks to supporters:
"Any efforts to help reduce this time and distance [to accessing water] is highly appreciated. So on behalf of those many children within my community, I would like to extend our sincere appreciation to all who have enabled different communities, families and individual children to get safe water. Distance and time have been reduced but also risks within those distances have been reduced and most of all safe water has been provided. We are looking forward to people being free from water born diseases."
Will you partner with us to help meet our WASH programme goals? Learn more about supporting our WASH programme here.