Including Children with Disabilities in Schools in Uganda
International Needs Uganda was founded on providing education for vulnerable and orphaned children. At its inception in 1994, their focus was supporting children orphaned by HIV/Aids. International Needs Uganda now run three schools and provide child sponsorship for over 3,000 children but few children with disabilities attended.
Where we work in rural Uganda there are many misconceptions about disability and many people with disabilities face discrimination, stigmatisation and even abuse. Many families who have a disabled child born to them often believe they have been cursed. Due to these local perceptions and a lack of government provision, very few children with disabilities go to school.
The Disability Inclusion Project began in 2017: 
In 2017 we partnered with UNESCO Chair and The British & Foreign School Society (BFSS), to deliver an innovative Disability Inclusion Project in Buikwe District, Uganda which uses sport as a tool for inclusion. Sport is as an effective way to raise awareness and start to challenge discriminatory perceptions of disability. Sport can be used to engage with disabled children to grow their confidence and character while encouraging friendships and team building.
Following its success, the programme was extended. Since 2017, when the project began, we have seen great changes in the inclusion, integration and progress of disabled children in the schools where we work. We have now (November 2023) welcomed 2,385 disabled children into mainstream education, properly resourced and with informed and engaged teachers. The programme's initial target was 1,365!
The goal of the programme is for disabled children to be valued and included in schools and by the community. We will do this by improving their access to education, supporting families of disabled children to set up small businesses,  equipping teachers and schools to provide better teaching and learning for disabled children and supporting church and community leaders to provide much needed psychosocial support  in 65 schools around Buikwe, Mukono and Kayunga Districts in Uganda. We also promote the importance of inclusion using inclusive sports activities and a sports festival.
We want to help more and more disabled children to be able to access the empowerment benefits of sports and to encourage families of children with disabilities to be enroll them into school.
To achieve these goals, in 2023 and beyond we are:
Creating access to education for 1,365 disabled children so that they will be better included in their homes, churches and community and have opportunities to reach their potential – now exceeded… 2,385 disabled children have been integrated into mainstream school
Providing training and resources for 250 teachers
Providing 65 local schools with sports equipment
Supporting schools to make their premises physically accessible with ramps, rails and improving toilets
Supporting 65 schools to write and implement disability inclusion policies
Running community advocacy initiatives to challenge perceptions of disability and promote the values of inclusion
Training 100 church leaders in disability inclusion so they can provide guidance and counselling to disabled children and their families
Working with 250 families of children with disabilities, to help them increase their household income through farming, so they can better support ALL their children
The key outcomes of the programme is to create societal change and change attitudes. We want to see the negative attitudes and behaviours towards disabled children reversed and for local communities to become inclusive. We want to see disabled children who are loved, happy and valued. We want the stigma attached to disability to be eradicated so that disabled children can live fruitful lives and no one is left behind.
It costs £90,000 to run this programme. Can you partner with us?
Key facts
90% of children with disabilities in developing countries do not attend school (Global Partnership for Education).
13% of children in Uganda are living with some form of disability, (approximately 2.5 million children) (UNICEF, 2014).
Only 15% of children with disabilities in Uganda access an education (The State of Access to education by women and girls with disabilities: 2014, Guzu Beatrice, NCD).
Through the project: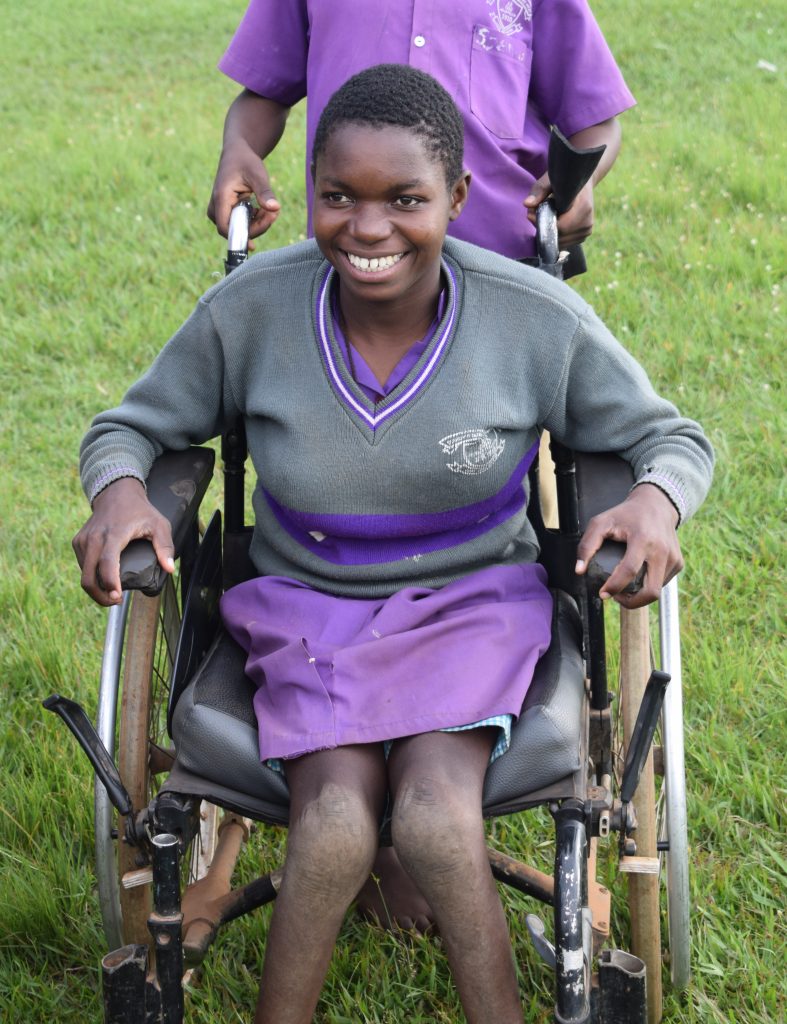 2,385 disabled children have been successfully integrated into mainstream education, across 65 schools. The original target was 1,350 but there is much still to be accomplished!
Help support our efforts
Donate today and help our ongoing work to improve the lives of families around the world. By supporting our different areas of development, your generosity will deliver impact and real change.
donate
project updates
January 30th, 2023
Eltham College – A Trip to Uganda, by Nabila
Hi everyone,
My name's Nabila, and this time around 4 years ago now, I was sat in a presentation much like this, about to make an amazing decision just as you all have the option to.
I decided to embark on a once in a lifetime opportunity and before I left for the trip, I was of course apprehensive. I was about to travel to a part of the world I had never been to, and although I had some nerves, I was excited to immerse myself in a different culture and really get involved in the wonderful work that International Needs do. A lot of preparation was involved, and we really were given a good understanding of what our purpose was when we got to Uganda.
In July 2018 I travelled to Buikwe, a village in Uganda accompanied by my friends, teachers, and International Needs. Without a doubt it was one of the most incredible, enriching trips I think that I will ever be lucky enough to go on. After a long, but exciting journey to Uganda we arrived at the guesthouse and from the moment we were there, we felt completely welcomed into the community. From day 1 we were learning new things whether it was helping to build water resources in rural villages, attending church services, playing netball with the children at the local school or trying some of Uganda's famous dishes. We had a lady called Irene cook for us in the guesthouse and honestly her food was quite phenomenal!
You will experience so much on this trip and getting to take part in the work that international needs do is truly inspiring, and you feel like you are actively making a difference to people's lives. Throughout the trip you meet families and visit different schools and villages in the area, we were fortunate enough to join one of their lessons which was a great experience. One of my most poignant memories was helping to fill up buckets of water for people in the village and their families. It was devastating to hear the risks that these children, particularly girls face on this essential trip, yet they were grinning from ear to ear, giggling as us 16–17-year-olds struggled with the litres that they carry without complaints. But it showed the reality of life for some children in Uganda and really highlighted why trips such as these are important.
Upon my return back home, I took away a lot from this trip. The memories I made will last a lifetime, and I often discuss my time in Uganda with my peers that went with me as well as many others. There was a lot of fun and laughter, equally, there was moments that made me become more reflective on our privileges and what more should be done to help others who are facing the challenges of those faced in Buikwe. I have carried my experiences from Uganda into my adult life; I gained many valuable lessons, some of them include how important gratitude is and I realised how much we often overvalue materialistic items and get caught in things that don't matter in the long run. In Uganda you will realise the culture is centred around valuing one another, I gained a perspective I would never have gotten had I not joined this trip, and it really opened up my eyes to a different way of life.
I want to end by saying that the link we have with Eltham College and Uganda is so important and it helps all of this wonderful work to happen that really helps and changes lives. I hope that as a school and within the community at Eltham we can continue to support international needs and I wish the best of luck to the group visiting this year.
Thank you all for listening.
Nabila, former Eltham College student who went on a GoGlobal to Uganda with International Needs
June 27th, 2022
Disability Training for 120 Local Leaders, Uganda
Disability Inclusion Programme – Uganda – A catalyst to encourage children to return to school
Update written by Wendy Lubbee, June 2022
We were excited to finally start the new Disability Inclusion Programme in February this year after multiple delays brought about by the closure of Ugandan schools due to covid. Uganda enforced the longest period of school closures worldwide with them being closed for 22 months during the COVID-19 pandemic. It is estimated that 15 million pupils did not attend school in Uganda for almost two years. Statistical models predict a learning deficit of 2.8 years in Uganda. Although the programme only started in late February, we have been encouraged by what has been achieved so far, the programme has acted as a catalyst to encourage children to go back to school.
The overall vision of this Disability Inclusion Programme is to improve the wellbeing of disabled children through inclusion and integration into their community. This is done by removing barriers to inclusion so that more disabled children can grow in confidence and have a greater opportunity to reach their full potential through participating in education and sports activities and being included in normal family, religious and community activities.
At the beginning of the Ugandan academic year, Head teachers reported that school enrolments were higher than normal after covid. This is encouraging with total enrolments in the 60 partner Primary Schools totalling 34,149 learners (girls 17,598 and boys 16,551). The percentage enrolment of disabled children also increased when compared to 2020. In 2020 the average enrolment of disabled children per school was 22 (904) in 40 schools. The baseline shows that in 2022 on average there is an increase to 31 disabled children (1,878) in 60 partner Schools in 2022. These 1,878 children are made up of 867 girls and 1,011 boys which translates to 5.5% of enrolled disabled children.
This increase in enrolment is seen as a direct result of religious leaders identifying disabled children in their congregations and communities and encouraging their caregivers to enroll their disabled child in school after attending the disability inclusion training in February 2022. With covid restrictions being removed the programme will continue to work with parents, teachers, and the community at large to change mindsets in order to reduce stigma and improve inclusion of disabled children.
We are grateful to the supporters of this programme who partner with us to change the lives of disabled children who otherwise be left behind in not only their education opportunities but in experiencing life to its full.
Photo above: Training of 120 religious leaders both Christian and Muslim in Disability Inclusion.
June 7th, 2022
New Tank for Bright Secondary School, Uganda
The future is looking brighter at the Bright School in Bujaaya Village!
IMPROVED ACCESS TO WATER RESULTS IN A REDUCTION IN LOST TEACHING HOURS
In many schools in Africa, children miss out on school teaching in order to collect water to be used by their school population. They often travel great distances to collect water from often unprotected water sources such as rivers, ponds and lakes leaving them less time to attend school.
Recently we were able to change the lives of 106 children (plus the school staff) by installing a 10,000 litre water harvesting tank at Bright Secondary School in Bujaaya Village. This water is now available to the school population for the purposes of hand washing and cleaning of the school premises. Thank you to everyone supporting our Water Project in Uganda!
May 19th, 2021
Access, Attitudes and Agency
Integrating Disabled Children into Schools in Uganda
In Uganda, disabled children face an uncertain future. The discrimination that disabled children and their families face is rooted in negative beliefs and stigma that disability is a curse and that having a disabled child means the family must have done something wrong. Disabled children become invisible, often hidden away at home and kept out of sight. These attitudes trigger a vicious cycle that limits the opportunities and agency of disabled children and denies them of their basic human rights.  
Education is the best investment you can give to any child. Yet in Uganda 91% of disabled children do not go to school. Those who do have to deal with bullying and discrimination and teachers lack knowledge on how to adjust for the different learning or support needs of disabled children. Despite the government's efforts through domestic legislation, policy and international commitments like the Sustainable Development Goals to integrate disabled children into schools, they remain one of the most vulnerable groups in society who face multiple barriers to education and employment.  
One way that International Needs has addressed this issue is by using sport to break down barriers of inclusion. Sport encourages better health, education and social inclusion and is recognised as a way to promote tolerance and respect by empowering women, young people, individuals and communities. In 2017, we collaborated with UNESCO Chair on a pioneering project called Plan2Inclusivize, which used sport to engage disabled children in play and physical education and trained teachers on making sports activities more inclusive. The project which has expanded to 40 schools, focuses on four key beneficiary groups: disabled children, their families, teachers and the local community across 40 schools in Buikwe District and has seen a significant increase in enrolment of disabled children. 
The project has helped disabled children become more active and confident in class and play. Ramps, walkways and toilets have been modified to increase mobility and make school premises more accessible. Schools received a variety of sport materials which has encouraged able-bodied children to play with disabled children building friendships between them. School teachers trained in disability inclusion have an understanding of the biblical perspectives of disability and how to write inclusive school policies. Teachers have responded with enthusiasm; they feel confident to adapt their teaching to support the learning needs of disabled children and have developed better skills to handle inclusion. Families of disabled children have been supported to set up small businesses like goat rearing or food stalls which helps them earn extra income to meet the needs of their disabled child and family. We have hosted sports festivals to celebrate disabled children and show parents and the community the importance of investing in their future.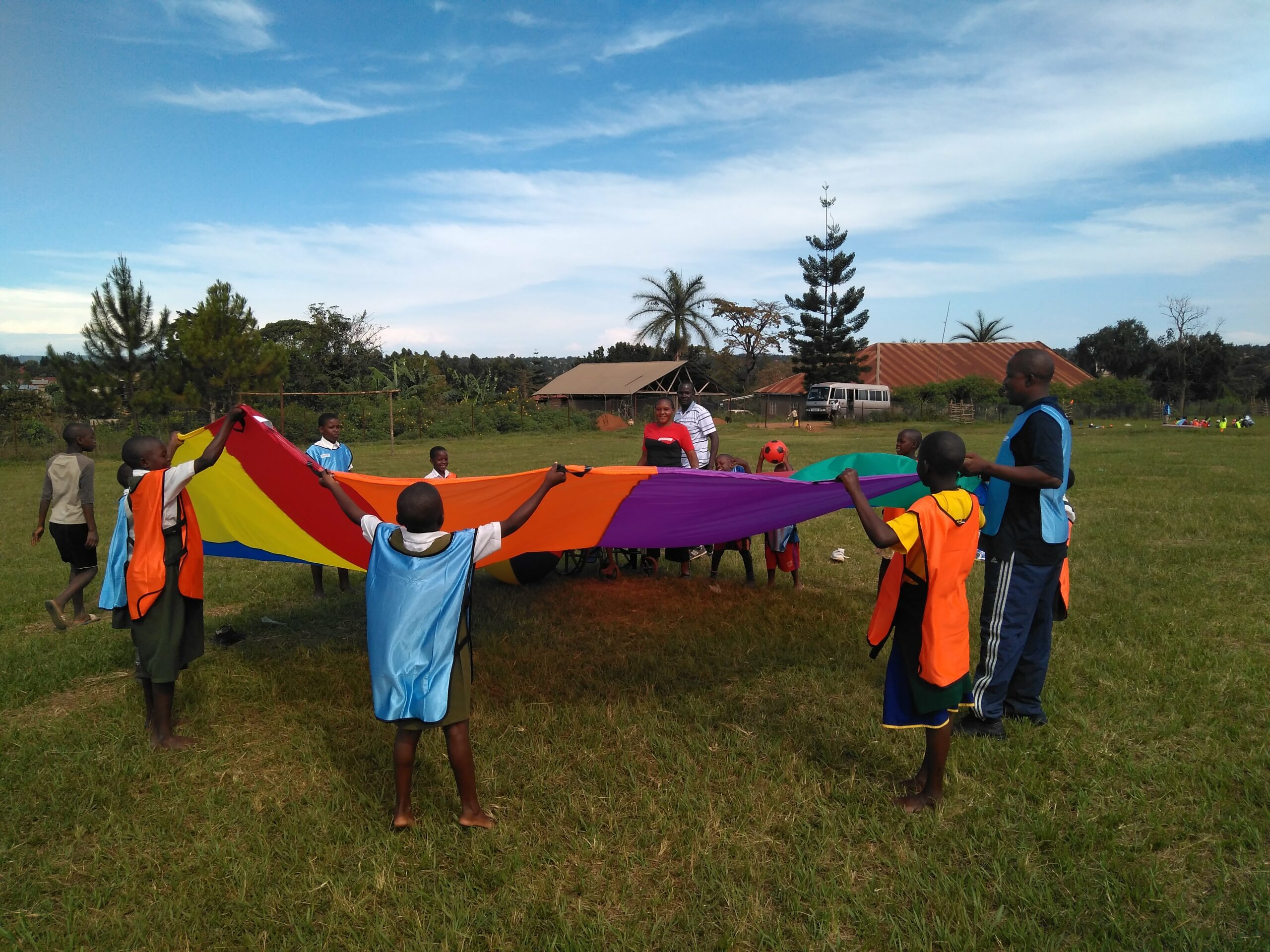 As we look to expand the project to include more schools, one of our supporters, Reverend Tim Goode, the Disability Advisor for Southwark Diocese shared his reflections on his first visit to Uganda and how this project challenges attitudes, access and agency. When families believe that having a disabled child is a curse, they keep them out of sight and hidden away from the community. When we have disabling attitudes, this builds barriers to access, which denies agency and this goes on to reinforce disabling attitudes creating a vicious cycle. By challenging disabling attitudes as this project does, the walls to access collapse and people have agency which again challenges disabling attitudes even more and the vicious cycle turns into a virtuous cycle. The project has highlighted that by engaging with people who are different, we replace fear with love and friendship which is transforming the lives of disabled children for the future prosperity of Uganda.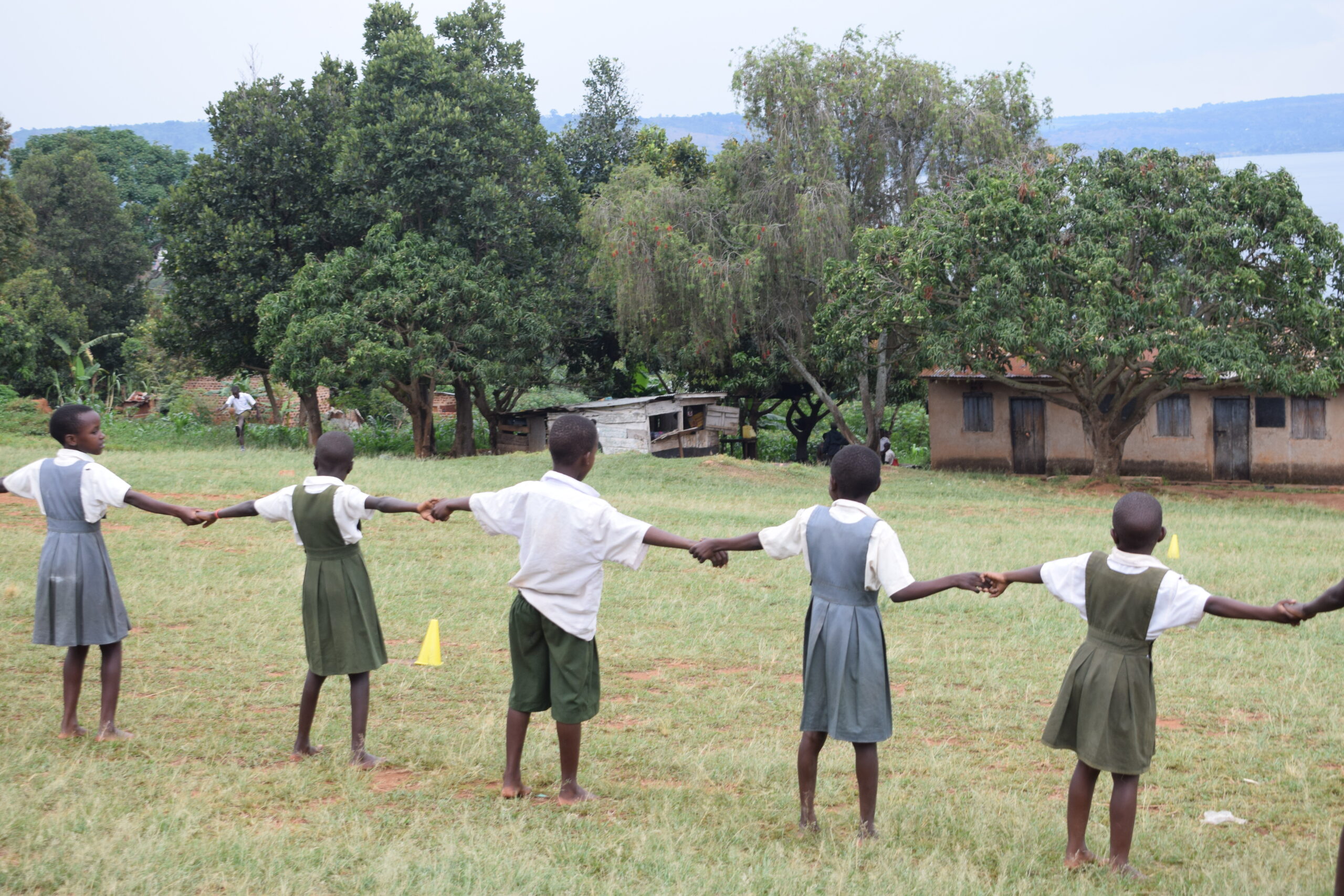 Donate online HERE
If you'd like more information, please get in touch with marisa@ineeds.org.uk
May 19th 2021
Project launched