Türkiye earthquake appeal
IN Turkey has worked in the border region for several years, with a track record of supporting Syrian refugees who have been crossing into Türkiye owing to the conflict. With a trusted, reliable local network to draw on – and in conjunction with other relief agencies – IN Turkey has identified the most pressing needs.
IN Turkey's initial response will focus on the provision of warm children's clothing, including coats, scarfs and winter socks. Nappies and sanitary pads will be supplied for babies and women survivors. There is also an urgent need for blankets, sleeping bags, clean drinking water, canned food, torches, power banks (for recharging mobile phones, etc) and for winterised tents and heaters. The IN team will also seek to address psychological and spiritual trauma.
Every gift given by International Needs UK donors will equip them with the resources they need to meet the needs of children, families and others in these desperate times:
£15 could provide two pairs of warm socks for ten individuals to guard against frostbite and hypothermia
£33.30 could provide scarfs and hats for a family with three children to take the edge off the biting cold
£62 could provide a family of four children with full sets of winter clothing to see them through to warmer months
Antuan also asks for prayer for the IN team in Turkey, and for wisdom and heavenly strength for the rescuers who continue to pluck survivors from the debris.
'For miracles,' he adds. Some of his colleagues are helping in the relief operation despite having suffered loss and bereavement in the disaster themselves.
Key facts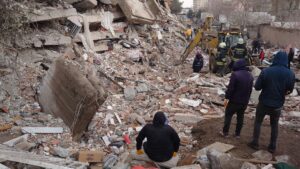 International Needs Turkey has started an emergency response after the major earthquakes of magnitude 7.8 and 7.5. These quakes, as well as numerous significant aftershocks, caused widespread damage to homes, community buildings and other infrastructure across a large area of southern Türkiye and north-western Syria.
More than 36,000 people have been killed in the two countries and 80,000 injured. Thousands more are still unaccounted for – feared dead in the rubble of nearly 12,000 collapsed buildings. These figures are expected to rise.
Compounded by sub-zero temperatures and wintry snowstorms, the disaster has been described as a 'crisis within a crisis', with the ongoing unrest in Syria adding yet a further layer of suffering there.
While access to the region by international humanitarian teams has been hampered by damaged roads and inaccessible terrain, IN Turkey's small but locally-based teams are already supporting their communities in exceptionally challenging circumstances.
Antuan, leader of International Needs Turkey reports: 'In ?skenderun and Antakya [formerly known as Antioch], the situation is most serious. Only five per cent of the buildings are still standing. Almost all the buildings that have not been destroyed are heavily damaged.' With so many structures unsafe to enter, Antuan explains that people have been forced to spend days and nights outdoors, exposed to the desperately cold weather.
Help support our efforts
Donate today and help our ongoing work to improve the lives of families around the world. By supporting our different areas of development, your generosity will deliver impact and real change.
donate
project updates
February 13th 2023
Project launched