A New Maternity Unit in Bobo Dioulasso
The miracle of life is a blessing that all families should celebrate.
But treacherous roads, long distances and high costs of health care all contribute to the risks of giving birth. For many parents in Burkina Faso, the challenges of receiving medical care are huge.  With a lack of facilities many women opt for a home birth but with no assistance from medical professionals and often unsanitary conditions; home births are one of the leading causes of child mortality and women dying from postnatal complications in Burkina Faso.
Building a new medical centre and maternity ward
To address this challenge, International Needs built a health centre in 2009. Since then this facility has supported thousands of individuals with healthcare. In 2017 it received over 27,000 attendees. Following rapidly increasing demand for maternity services, in 2015, we began a project to build a new seven-bed maternity ward to offer maternity care for families in Bobo Dioulasso. With the help of our generous supporters, we were able to raise over £100,000 to build and equip a new maternity centre.
The new maternity unit officially opened in February 2017, and as of November 2018 it has provided over 11,000 attendees with maternity care and over 1,200 babies have been delivered.
Meet Aminta
Aminta was one of the first women to give birth at the maternity unit opened by International Needs in Burkina Faso in 2017. Aminta surprised staff at the maternity centre as she arrived alone on a motorbike, unsure whether she was in labour. When she was attended to, staff found that she was already in established labour and she delivered a healthy baby boy just two hours later.
What your support can do:
By supporting our Health Projects you ensure that the maternity centre can continue to provide valuable care to the communities of Bobo Dioulasso. Funding goes toward supporting training for medical staff, providing medical equipment, medicine and supporting the medical centres to become increasingly self-sufficient.
In 2017 a generous donor supported the medical and maternity units to install new solar panels. This has dramatically reduced electricity costs by 75% meaning the centre can now invest in more equipment and medicines for treating patients.
If you would like to support projects like this, why not join the International Needs Family and support our health projects? 
This project was completed in August 2022
Key facts
Health in Burkina Faso (WHO, 2013)
The infant mortality rate is 64.1/1000
The under 5 mortality rate is 97/1000
The maternal mortality rate is 400/100,000
 In 2015 there were an estimated  7,000,000 cases of Malaria and an estimated 15,000 deaths caused by the disease (WHO, 2015)
Our Health Centre in 2016 had 3,561 visits that were maternity related.
 563 Babies were delivered
536 Postnatal visits
2,292 Antenatal visits
170 Family Planning Visits
The centre also treated
5,947 cases of malaria
2,263 people for respiratory illness
1,140 people for digestive diseases
1,268 for other disease such as typhoid fever, UTIs etc.
Help support our efforts
Donate today and help our ongoing work to improve the lives of families around the world. By supporting our different areas of development, your generosity will deliver impact and real change.
donate
project updates
September 1st, 2023
Remembering Dieudonné Kone
Dieudonné Kone 19th July 1986 – 25 August 2023
Bobo Dioulasso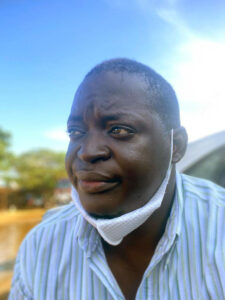 Friends, it's with great sadness and shock that we learned of Dieudonné's untimely death last week.  He had been taken seriously ill with complications from malaria and died with his family around him late on Friday evening.
I got to know Dieudonné in 2015 when I first travelled out to meet the team. We developed a firm friendship and partnership that was able to move our project forward with increased support. He was a thoughtful, kind, considerate, and intelligent young man. We readily laughed at our own mistakes and misdemeanours, and he willingly forgave my cultural clumsiness. He persuaded me to initiate the maternity unit project and more latterly the expansion of the classrooms at La Bonne Nouvelle school. It was his skill in the administration of the medical centre and latterly other projects in Burkina, that gave partners confidence. We fail to comprehend why this has happened, but we give thanks to God for the steadfast race he ran.
Please pray for his widow Nafi and their two children Leslie (9) and Prince (6), as well as his parents Pastor Jean and Rachel, Esaie, and Tabitha, the wider family, and the community of Bobo that will dearly miss him. If you would like to write a letter to send to his loved ones and the IN team, please send this to our office marked for Dieudonné and we will compile all communication from everyone. We have also created a special page at remembr.com/dieudonne.kone on which you can share messages of condolence or your own memories of Dieudonné.
Danny Morris
CEO and Executive Director International Needs UK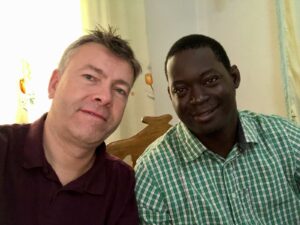 June 12th, 2023
Peter Craig Awards for La Bonne Nouvelle's Outstanding Students!
We are happy that we were able to have the Peter Craig Awards this year to commend and encourage La Bonne Nouvelle school's outstanding students.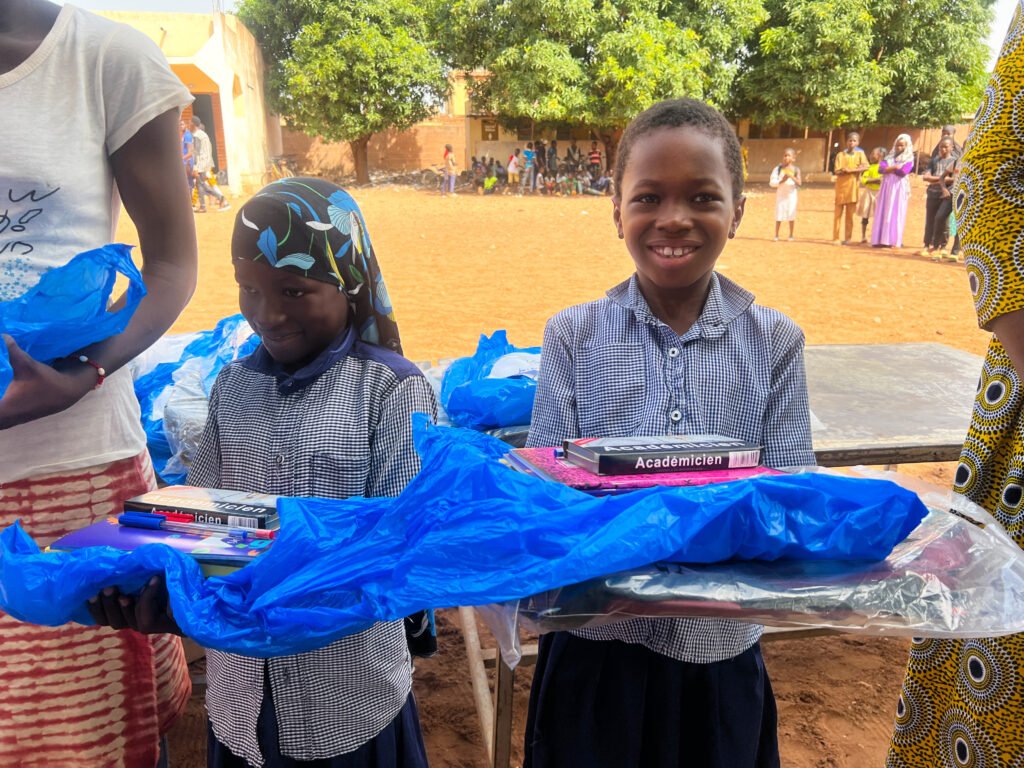 The awards took place last month with International Needs Burkina Faso granting school bags, text books, notebooks, pens and mathematical sets to 18 primary school and 18 secondary school students who had all scored a total of 7 and above out of 10 points at Primary level and 12 and above out of 20 points at the secondary school level.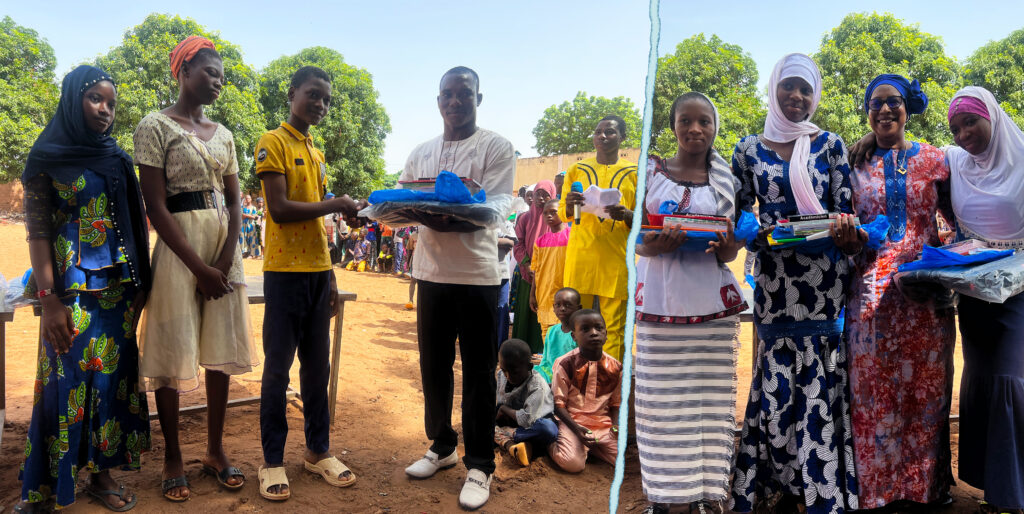 It was a happy day of celebrations as the students, teachers and parents gathered in the open grounds of the school to witness the award ceremony which was followed by food sharing, dancing and singing by the students and community. It is uplifting to see La Bonne Nouvelle's students excelling academically given that most of these children come from very impoverished homes with a quarter of the student population being refugee children who fled into Bobo Dioulasso after facing violence from terrorism in their homelands.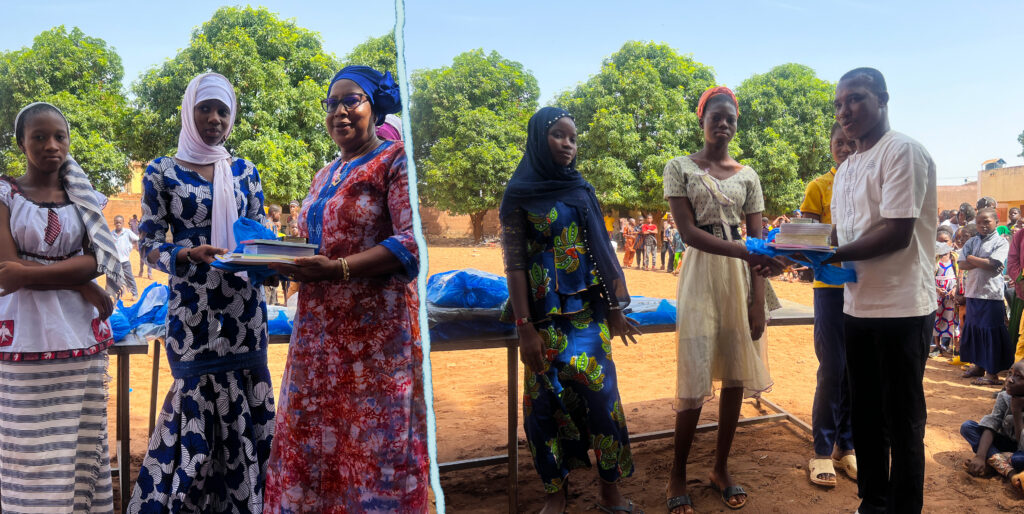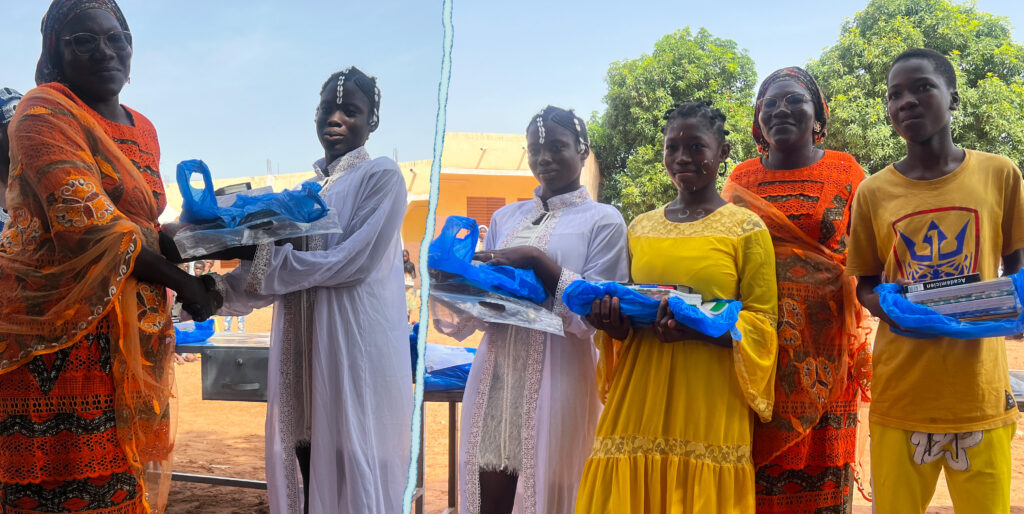 Testimony of one of the Awardees; 
"I'm an internally displaced pupil from the village of Titao, 404 km from Bobo-Dioulasso. In 2021, we fled Titao to come to Bobo-Dioulasso. I lost my father in the attacks and my mother brought me and my brothers to Bobo-Dioulasso, here, thanks to International Needs, we're being looked after by a psychologist and a pastor, and I've been able to regain the confidence to work at school. I'm one of the top three in my class. Today, even though I'm an internally displaced person, I see myself like the other children who are with their two parents and who haven't suffered a shock". Rasmane*, Grade 1. La Bonne Nouvelle School.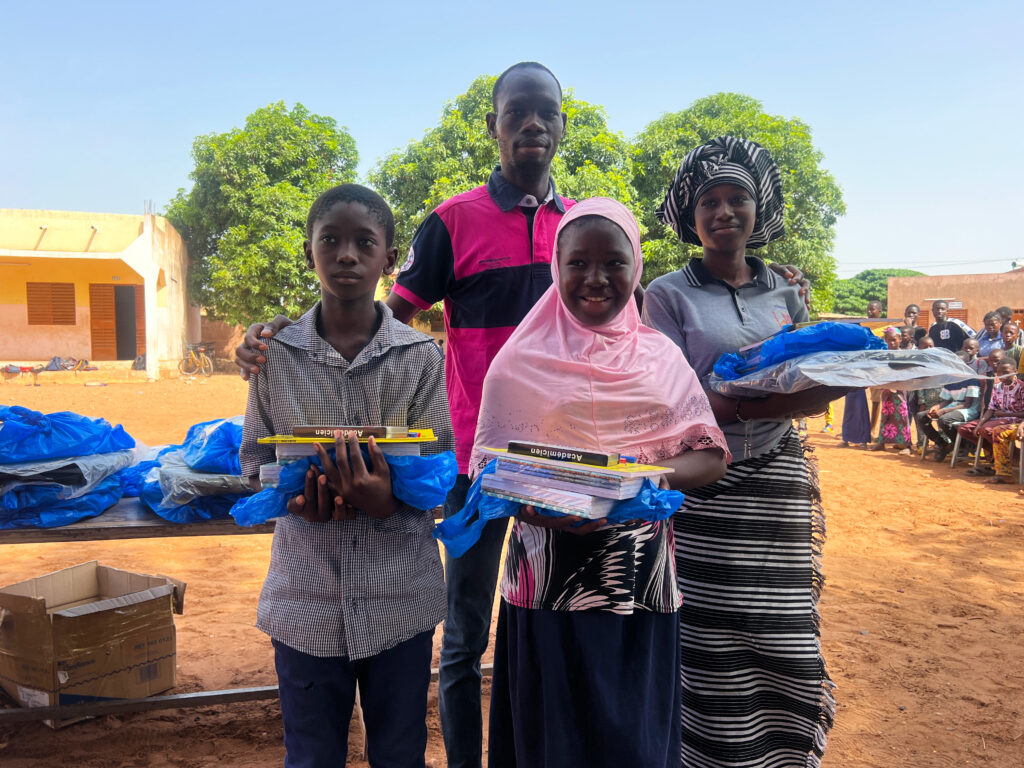 Peter and Judith Craig left a strong and lasting legacy in Bobo Dioulasso by impacting the lives of hundreds of families in this community. Prior to Peter's passing in 2018, the couple supported the original construction of La Bonne Nouvelle school and the community medical centre managed by International Needs Burkina Faso. Judith continues to honor Peter's legacy by supporting the annual Peter Craig Awards. We are very thankful for this.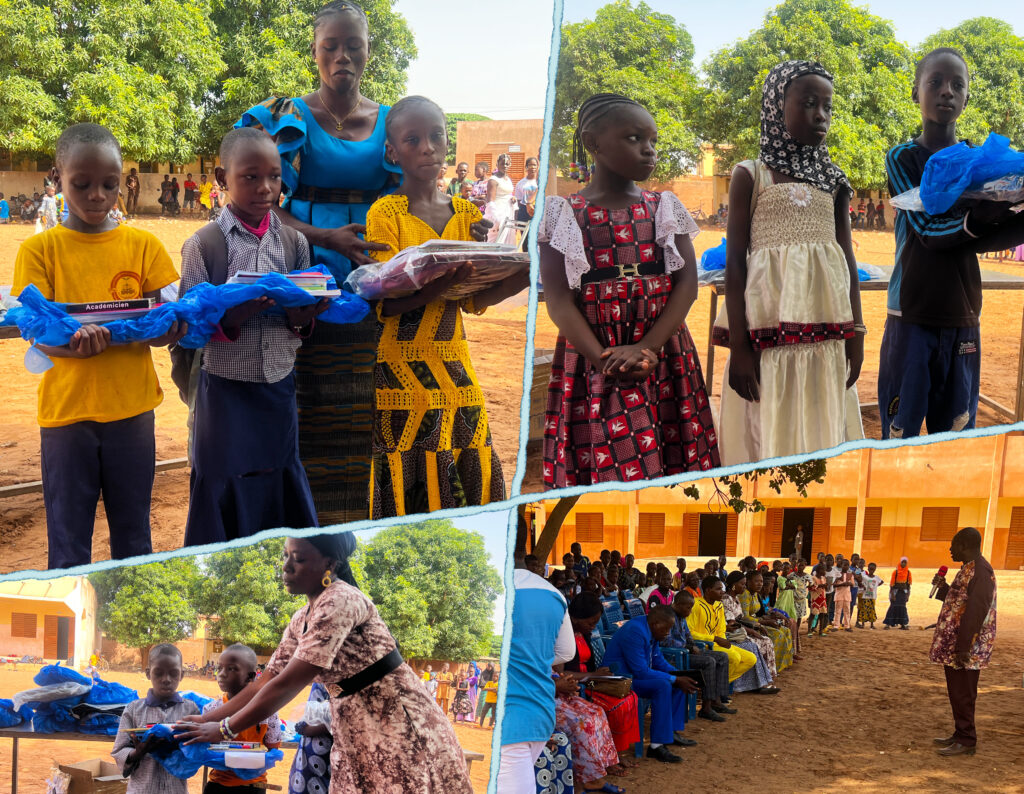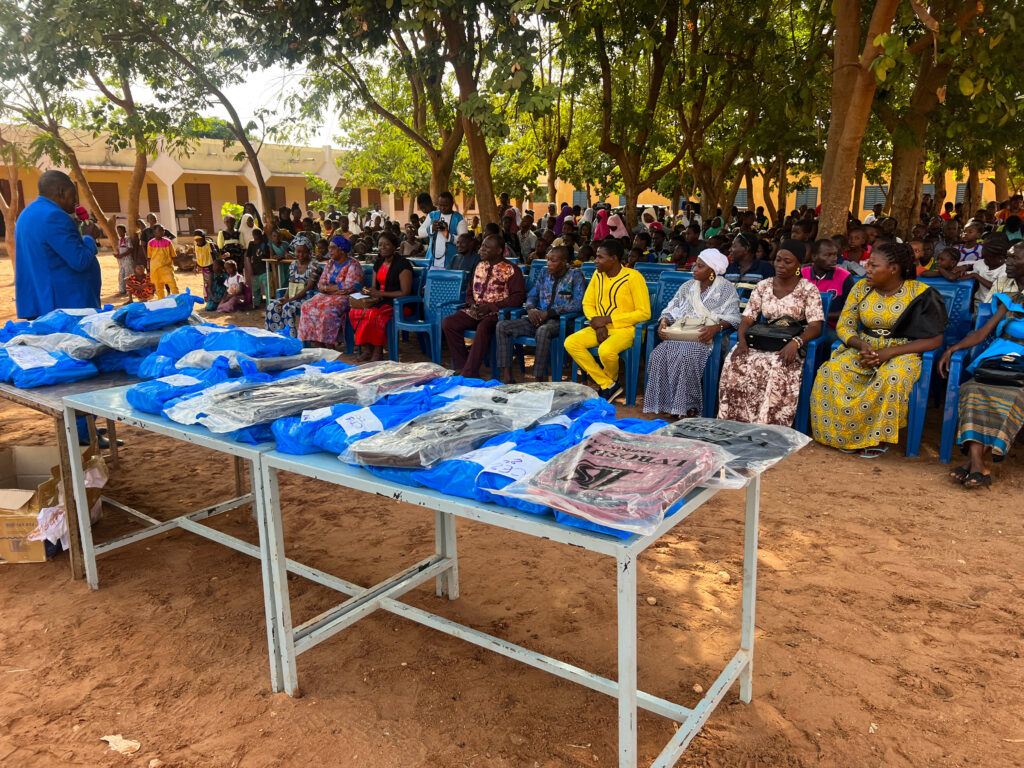 Issaka's Story
"I come from KONGOUSSI, a village 106km away. My parents had to flee the village because of the terrorists who burnt our field and killed my uncle. Since then my father has taken us to Bobo-Dioulasso."
"Thank God, the Bonne Nouvelle school took us in on 15 September 2022. I was scared, I couldn't learn my lessons when I started, but thanks to the TRAUMA counselling programme, we were looked after by a psychologist and a pastor. After a few sessions with them, I managed to overcome these difficulties and got a good average to come third in my class out of 63 pupils."
Aissatou's Story
"I'm an internally displaced child from the village of Koflandé, 160 km from Bobo-Dioulasso. Armed men killed my father in February 2022, and I came to Bobo-Dioulasso with three older sisters. I saw my father's blood spilled and I couldn't forget. I had a lot of nightmares and I was afraid of the armed men."
"I went to the La Bonne Nouvelle school and they looked after me. Thank you to everyone who supports me."
*Names changed to protect identity
January 1st, 2023
Happy New Year, and a massive International Needs UK welcome to 2023!
While, of course, there is much uncertainty as we take our first tentative steps into the new year, we are excited about the prospects and what God has in store for us in his kindness and provision.
As we prepare to return to work, college or school in the next few days, please spare a thought and a prayer for those who are in 'learning poverty'. That's a term which describes the reality of children and young people who are unable to read and understand simple text. According to analysis by the World Bank, as many as 70% of 10-year-old children in low- and middle-income countries are in this position.
But it doesn't have to be like that. For just £20 per month at today's rates, you can directly support the education of one eager pupil through our Child Sponsorship scheme. It's a really great way of making a tangible, practical difference in a young person's life, and research shows that completing an education can break the cycle of financial poverty too.
You could also support Group Sponsorship, which – as the name suggests – helps a group or class of children access education, providing benefits to the whole community. The monthly gift goes towards school fees, supplies, a nutritious lunchtime meal and mental wellbeing support.
We realise times are hard and finances are stretched, but we need to act urgently. Could you commit to sponsor a child (or, if you're already giving in this way, add another child)? Perhaps you could join with others in your church, small group or social circle if its beyond your means alone. Or could you increase your regular giving to support a larger group of children keen to learn? Or maybe you might help us recruit sponsors by spreading the word, telling people about the important needs. One easy way to do that is to simply hit 'share' on this post and add your personal endorsement.
To help us get more kids Back to School, email Kim – our ever-helpful Donor Services Manager – at membership@ineeds.org.uk.
February 16th, 2021
Hope Through Healthcare
A Terrible Dilemma
According to the World Health Organisation, half of the world's population are still unable to readily access essential health services. For up to 100 million people, the cost of basic healthcare puts their family at material risk of being pushed into extreme poverty. It is hard to fathom the personal tragedy of having to choose between buying food and life-saving medicine for your child. It is harder still to grasp the vast scale of how many families have to face this dilemma, year after year.
The pandemic has thrown the disparity in global healthcare provision into sharp relief. Health systems in developing countries remain fragile and an area for grave concern. Thankfully, Africa's very young population and relatively strict lockdown responses appear to have prevented high mortality rates. At present, other deadly endemic diseases such as malaria and typhoid continue to pose the most urgent threat to life for many. Providing access to affordable testing and treatment facilities remains a top priority – both for saving lives and preventing further collapse into poverty.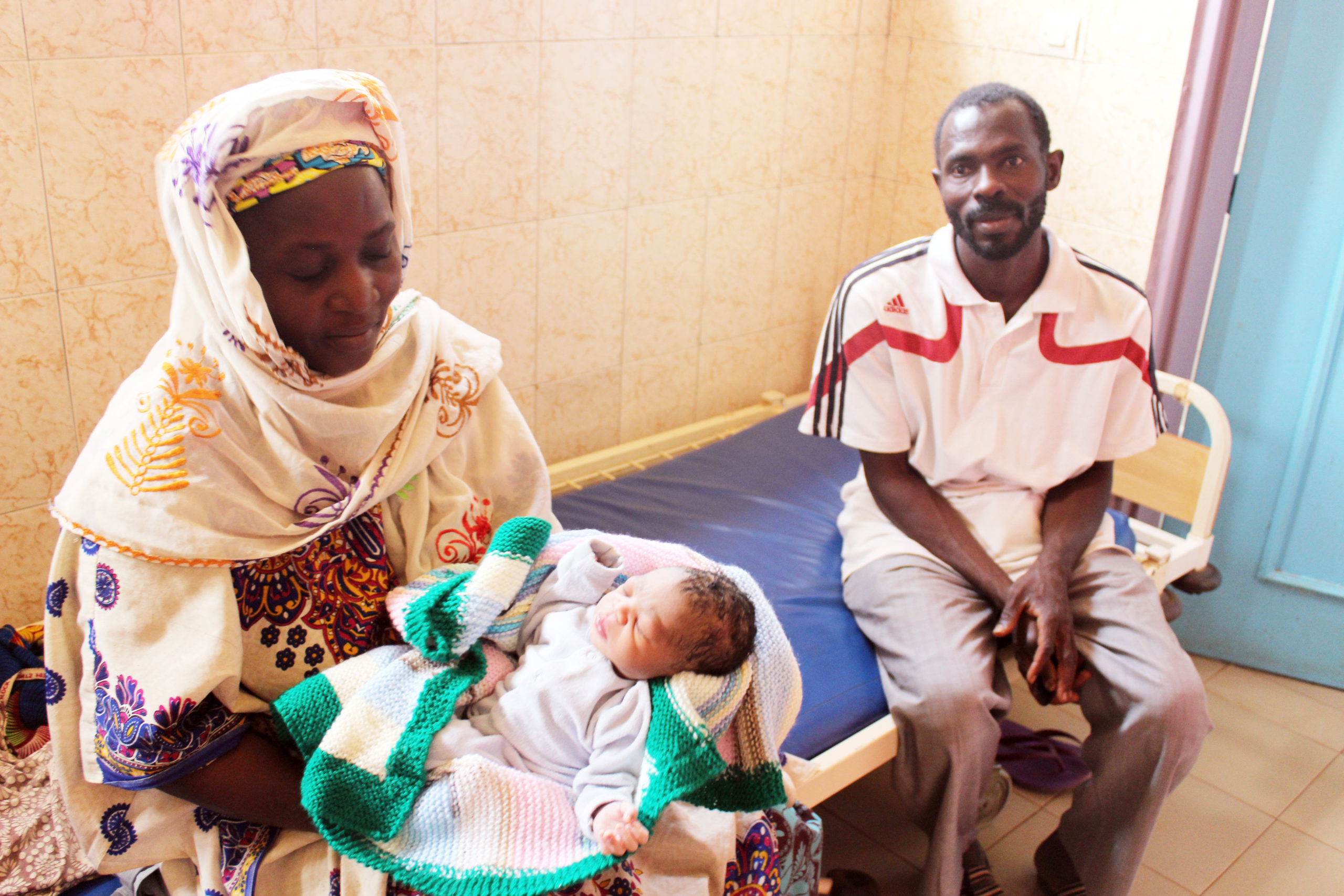 Hope through Healthcare
The St Ophel centre in Burkina Faso was set up specifically in response to the exponential population growth in Bobo-Dioulasso. Our IN partners realised that many poor people were simply not able to afford to use existing over-stretched clinics in the area. The medical centre has grown and made significant steps towards improving patient care and sustainability. The centre now has a thriving maternity unit, pharmacy and dispensary equipped to treat a wide range of common illnesses. Malaria typically accounts for over half of all patients.
Urgent Appeal – Medical Equipment for Burkina Faso
Over the last five years the St Ophel laboratory has been able to screen over 50,000 patients for various diseases. Unfortunately, the core testing equipment is now at the end of its lifespan and no longer able to give reliable results.
We need to raise £30,000 to replace the microscope, haematology analyser and bio-chemistry analyser in order to restore the essential diagnostic capacity of the centre. The urgent appeal will also enable us to help them acquire an ambulance vehicle to transfer critical patients to the district hospital. Anything raised over and above the target will go towards resourcing the centre with further provision of PPE.
We'd love to invite you to consider giving towards this urgent appeal so that INBF can continue to provide families with excellent, affordable and life-saving treatment.
Donate online HERE
If you'd like more information, please get in touch with Rich at rich@ineeds.org.uk.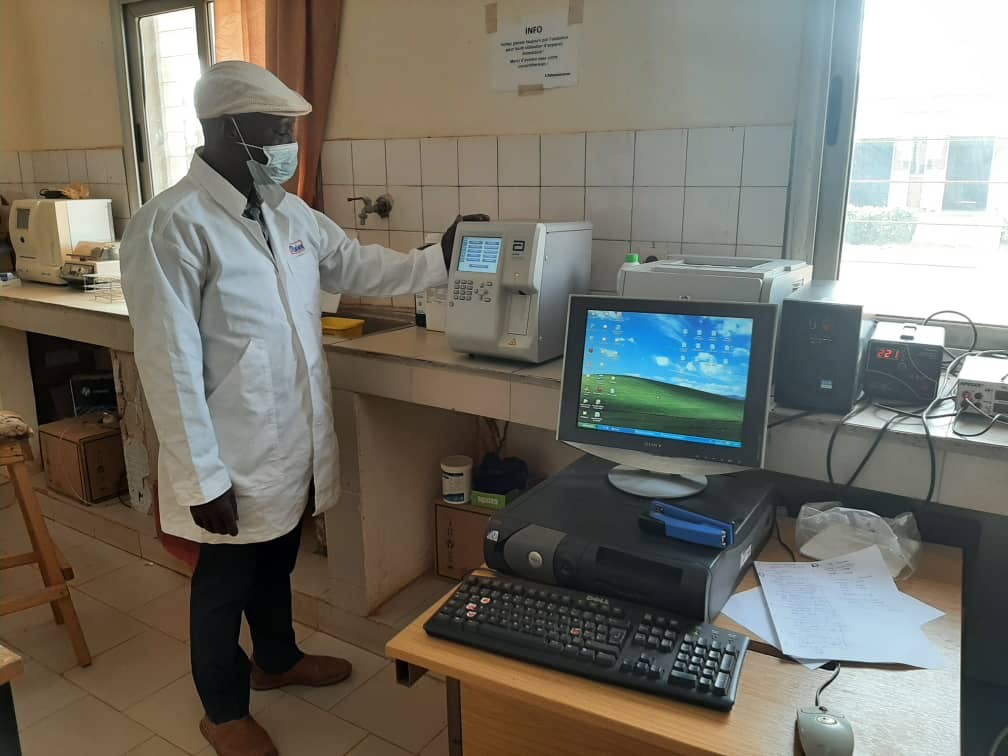 Virtual Tour of the Burkina Faso Medical Centre – 25th Feb
Join us on 25th Feb at 3PM  for a virtual tour of the Medical Centre in Burkina Faso. We will hear directly from the doctors and medical staff and a great chance to ask any questions. Sign up HERE.

March 8th, 2017
YOU DID IT – a new maternity unit in Bobo!
Thank you to everyone who has been partnering with us on this project, we are finally finished and the maternity unit is open for use. Young families, mothers and babies will experience a health centre that offers all the support required for antenatal and postnatal care as well as a safe place for delivery. With over £100,000 raised, we finally (more…)
March 08th 2017
Project launched