Our partners in Slovakia and Romania are ready and desperate to support the thousands of Ukrainian refugees crossing the borders looking for safety. Can you help us by donating through our website?
We are all seeing the desperate stories in the news about families fleeing their homes, families being separated as some remain to fight, and families suffering devastating losses. We are glad to be able to offer an opportunity to help do something for our brothers and sisters in great need.
We need help to provide:
Transport for refugees to move from the border to safety
Food for refugee families
Helping local families open their homes to refugees
Clothes, medicines and other basic needs
Rent for accommodation
Bedding to be used on church floors and conference centres
International Needs Slovakia and International Needs Romania have been part of the International Needs Network for over 25 years. Their ministries focus on church planting, schools ministries and working with Roma communities. They work through a network of pastors, churches, church planters and schools. Now in this time of crisis they are responding to the urgent needs of the thousands of refugees arriving in their countries.
We ask you to donate to this appeal to provide urgent support for these families. We will share news of our planned response over the coming weeks but wanted to share with you this opportunity to give as soon as possible. To start with we are aiming to raise £50,000 to meet these most urgent needs.
News from Slovakia: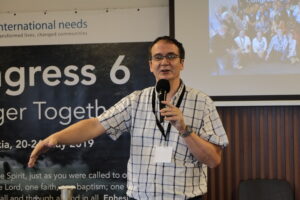 Pavel Sinko, Executive Director of IN Slovakia writes:
"Right now, most refugees just need transportation from the border, rest and refreshment, stay for a night and help with transportation to their destination in Slovakia or other parts of Europe. Most of them have relatives or friends somewhere. So far around 70,000 people have crossed the Slovak border. We and local churches are involved with other volunteers and humanitarian organisations there on the border. But we are expecting many more refugees, who will need to stay in Slovakia for longer. Besides churches, almost all city councils are prepared. Local authorities from our region asked us for cooperation. For example this evening around 60 refugees should come to a small town next to Lucenec. One of my staff is Ukrainian so she is going to help with translation. So, we, as IN Slovakia are looking for ways to help. In some areas it will be cooperation with local authorities and help with social and spiritual ministry. In some areas we will provide everything, including housing, food, social and spiritual ministry. In our church alone there are 15 families willing to open their houses for refugees. We are also ready to open the Rackova Conference Centre for refugees. I am going there next week to make the centre ready"
News from Romania:
Mirel Talpes, Executive Director of IN Romania writes:
"Our colleagues (IN Romania gospel workers) go there and even cross the border into Ukraine with food, blankets, and warm clothes to offer women and children who wait more than 24 hours in the night cold and unsafe. The biggest wave of refugees so far is expected in the next 48 hours. Most of them will be poor from South of Ukraine. As an example of some of our actions, together with our church planter Florin Boruga we work to identify and rent houses in 3 villages in Central Transylvania where to accommodate refugees. In these villages, Florin Boruga and the other church planter from area Cosmin Gabor have also made ready centres where they have served food for the Roma community since 2019. When we bring refugees in these villages, these centres serve food for all families"