Child and Group Sponsorship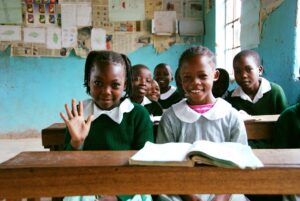 Hi, Christianity magazine reader! Welcome to International Needs UK.
We're delighted that you've chosen to find out more about our Child and Group Sponsorship programmes, both of which are designed to help support vulnerable children and young people (and their families) in challenging situations around the world.
The needs are greater than ever. The scope remains global. And yet the International Needs sponsorship programmes are simple. For a regular £25 per month commitment, you can provide a child in one of our partner countries with what they need to remain in education.
Sign up today
To start your sponsorship please complete this form or give us a call on 01883 331332. You can help transform the lives of kids around the world but signing up to our Group or Child Sponsorship programmes. We hope to hear from you.

Your sponsorship can cover the cost of school fees and other items necessary for the child to attend school, taking the burden off families that are barely managing. Your sponsorship helps with provision of nutritious food and vital healthcare. Your sponsorship may provide a school uniform so they truly 'belong' to the school community. And your commitment ensures sufficient textbooks, stationery and other basics, to help the student throughout their studies.
So how does it work?
You can choose whether you wish to sponsor a specific child, or join our group sponsorship programme where funds support a class rather than an individual student. You will then become a member of the International Needs Family, acknowledged with a special pin badge within a detailed Welcome Pack. This pack will contain a welcome letter, a profile and photo of your child or group, and some ideas of how to write letters to stay in touch and provide encouragement as they grow up. This is not mandatory, but many of our sponsors love to send and receive letters three or four times a year.
Thank you so much for your interest, and we hope to welcome you into the International Needs Family soon! While you're here, you might like to take a look at some of the other work that International Needs partners are undertaking. From our emergency earthquake response on the Turkey/Syria border to providing trauma care counselling to child survivors of terrorist atrocities in Burkina Faso, we put our Christian faith into action in 30+ countries worldwide.
*Name changed to protect identity