Parable Challenge of the Talents!
International Needs UK is starting out on a significant project to construct, kit-out and commission a new-build Leadership and Talent Centre in Nairobi, Kenya.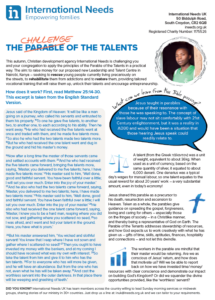 Could you (and your church congregation or home group) rise to the challenge and support IN in developing this purpose-built centre, which seeks to rescue, rehabilitate and restore street children in Nairobi? We have devised an activity for the whole church to get involved with, based on the Parable of the Talents – please click on the download!
We would also be delighted to provide an International Needs speaker to talk about this initiative or more generally about IN's work around the world. This could be for a Sunday service or a midweek prayer meeting, mission team or small group gathering – contact us at inuk@ineeds.org.uk if this would be of interest.
Whether you are able as a church to raise £100, £1,000 or £10,000, we can guarantee that your money will have an enormously positive impact on families in some of the world's most difficult places to live. We are driven and motivated by Jesus' words in John 10:10: 'I have come that they may have life, and have it to the full.'
Would you join us in that mission?