August 26th, 2021
Creating livelihoods for rural women in Nepal
Girls and women in Nepal face many challenges. Cultural and traditional norms have deprived women of their agency in choices when it comes to education, health and employment. Giving birth to a girl child is often seen as a burden to families with girls not being educated at all or forced to give up studies or employment to male family members while they concentrate on household work. Many girls are also forced into early or child marriages, with around 40% of girls married before they turn 18 years which under domestic law is illegal since the minimum age of marriage is 20 years. In terms of women in the labour force only 22.9% of females of working age were in employment. According to the Government of Nepal's national planning guidelines the major challenges to gender equality include discrimination against women, ongoing societal structures, beliefs, values and traditional practices that promote illiteracy, harmful practices, gender-based discrimination and violence against women. These practices can affect all females but especially those who are poor, less educated and living in rural areas. Earlier in 2021, Nepal went through its Universal Periodic Review (UPR). The UPR is a unique process which reviews the human rights records of UN Member States at the Human Rights Council every four years. During Nepal's UPR it was noted that the Government is taking different approaches to address the multiple forms of discrimination against women which include empowerment of women through education, awareness, training for skills development and employment and implementing anti-violence and anti-discrimination laws.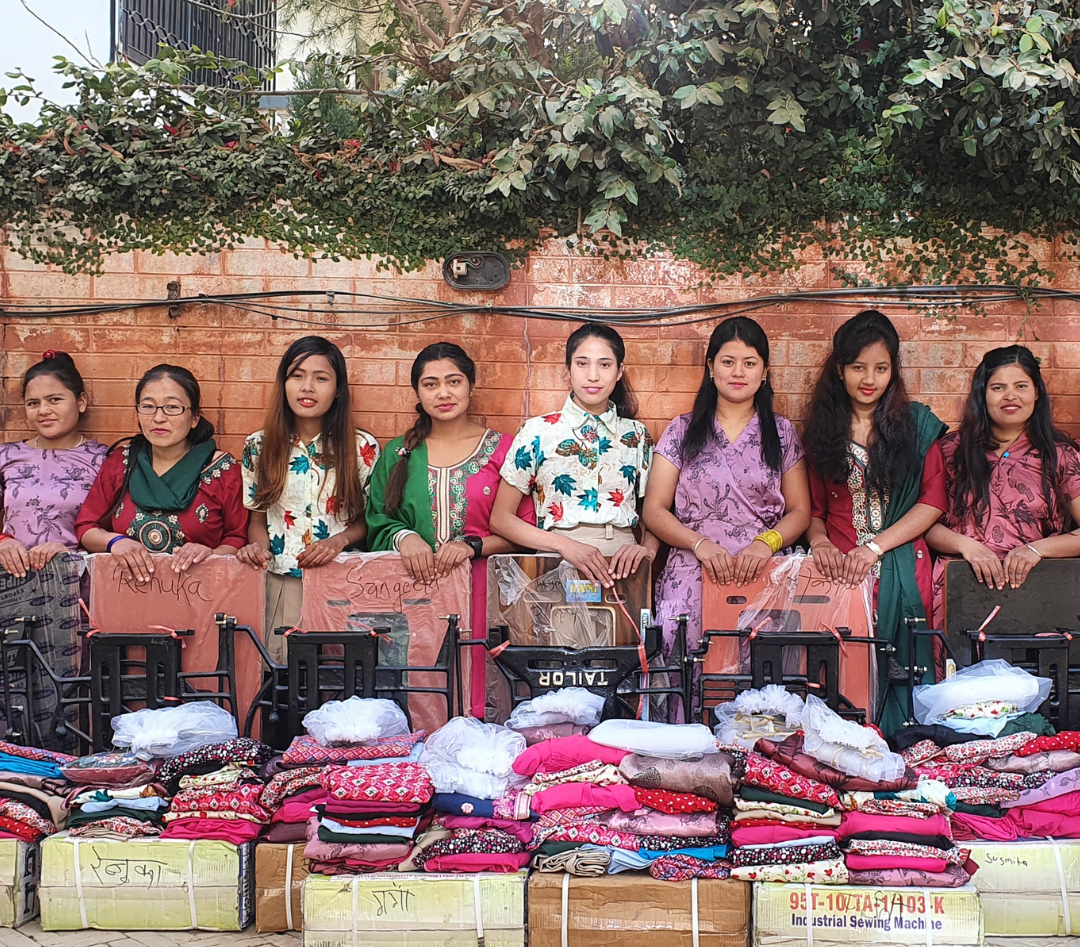 Challenging Traditions
The Covid-19 pandemic hit Nepal hard putting girls and women at increased risk of economic hardship, pregnancy, food insecurity lack of education and poverty. Projects like the Lydia Ladies vocational training programme seek to address the lack of opportunities that women face. The programme promotes women's empowerment by equipping women who are facing the greatest need, with vocational skills like tailoring, cooking, jewellery making and other life skills to enable them to independently earn a living. The five-month residential course is transformational for each woman who has their own story of personal challenges and expectation that has inspired her to join the course. Another part of the course focuses on health education including reproductive health. One important aspect is that women come to understand that 'chhaupadi' the harmful tradition where women are made to stay outside in an animal shed during their menstrual cycle, is wrong. The practical training and experience of sharing, living and learning together goes beyond developing income generating skills to become financially independent but also builds the women's self-esteem, dignity, power and recognition among their family and community to create a sustainable future. Some ladies set up small businesses or find good jobs, like Puspa Gurung who runs her own tailoring shop or Sarita Tamang who works as a security officer and makes jewellery and clothing. The wider impact is that women feel more confident, take better care of the health and education of their children and become active participants in the community able to speak out about the issues that affect them.
A Different Shade of Life
One of the previous trainees Sushma Pariyar, is a mother who manages the household chores, takes care of the family and works in the field. Having so many responsibilities meant that Sushma never had the opportunity to learn any vocational skills. After joining the programme, she said,
"I saw a different shade of life which is very beautiful, I never knew I would enjoy my life differently – learning tailoring skills was beyond my reach, this opportunity shaped me for spiritual growth, filled me with skills and knowledge to make a living and train my children in a better way".
The Government of Nepal has committed to achieving significant gender equality and participation of women that will positively contribute to the country's economic prosperity and sustainable development. Improving women's economic empowerment and self-esteem reduces the risk of child marriage, poverty and hunger for the benefit of women, their families and the nation. Grassroot projects like the Lydia Ladies are at the heart of this agenda to reduce discrimination, superstition and challenge the gendered norms faced by women.
If you would like to support the work of the Lydia Ladies please click here.