Keswick in Devon
International Needs UK will be in Sidmouth, Devon between the 3rd and 9th of March. Come and meet us to find out more about our development projects around the world and our passion for sharing the Good News of Jesus. You can see us either at the Keswick in Devon event, or our Coffee and Cafe Afternoon. We would love to meet you!
You're invited: Coffee and Cake Afternoon, Saturday 3rd March
To start the week, International Needs UK would like to invite you to join us for an afternoon of coffee and cake at The Mustard Seed Cafe.
Joined by our National Director Danny Morris and Sponsorship Coordinator Jo Wilson, We will share with you our exciting updates on the impact of our work across different projects. We work with Christian leaders who are bringing the Good News of Jesus to families suffering from the effects of extreme poverty, forced migration, religious persecution or natural disaster. We will be featuring our work in Uganda, Nepal and Egypt.
Please do let us know if you can make this so we can accommodate you at the café. Please RSVP to Jo Wilson at  jow@ineeds.org.uk.
The Mustard seed Cafe | 3:00pm – 5:00pm 
Saturday 3rd March
The Mustard Seed Cafe
1 All Saints' Rd, Sidmouth, EX10 8ER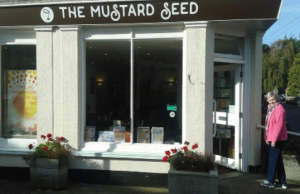 You're invited: Keswick in Devon,              5 – 9th March
Keswick in Devon is a Christian conference hosted by All Saints Church in Sidmouth from 5th – 9th March. The theme this year is "Arise and Shine! Living Brightly in the Light of Christ" with guest speaker Tim Chester. Find out more about this event at keswickindevon.org.uk. International Needs UK is exhibiting at Keswick in Devon all week, and we will be presenting our work on Tuesday 6th at 2pm in the hall. If you are coming to Keswick in Devon then we would love to see you there. Come find us at our stand in the hall,  meet members of the IN Team, and chat with us about our work.
All Saints' Church
All Saints' Rd, Sidmouth, EX10 8ES